Low-Fat Double Chocolate Hazelnut Cheesecake
Cut the Calories Cheesecake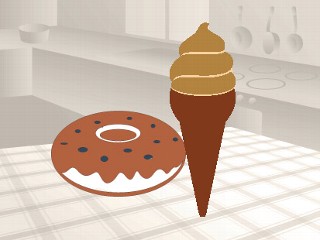 From the kitchen of Kristin Renzema
|
This Recipe for Low-Fat Cheesecake is from Good Morning America's "Cut the Calories Cookbook" and makes a 9 inch cake.
Ingredients
Double Chocolate Hazelnut Cheesecake Crust
1/2 cup chocolate graham cracker crumbs (scant - about 3 whole crackers)
1 tablespoon unsalted butter, melted
2 tablespoons hazelnuts, finely chopped, blanched
Double Chocolate Hazelnut Cheesecake Filling
2 packages low-fat cream cheese (8-ounce - Neufchatel), cubed
1 1/2 cups part skim ricotta cheese, firmly packed
1 cup sugar
1/2 cup unsweetened Dutch process cocoa powder
3 teaspoons vanilla extract
1 large egg plus
1 large egg white
3 tablespoons miniature semisweet chocolate chips
Double Chocolate Hazelnut Cheesecake Topping
1/2 cup low-fat sour cream
1 1/2 tablespoons sugar
2 teaspoons unsweetened Dutch process cocoa powder
2 tablespoons hazelnuts, finely chopped blanched
Cooking Directions
Preheat oven to 350 degrees. Coat bottom and sides of 9-inch springfoam pan with nonstick cooking spray and set aside.
For crust: Mix crumbs, melted butter and hazelnuts until uniformly crumbly, then pat firmly over bottom of prepared pan. Bake uncovered 7 minutes. Remove pan from oven and set on wire rack while you prepare filling. Also reduce oven temperature to 300 degrees.
For filling: Pulse cream cheese, ricotta and sugar 1 minute in food processor. Scrape down work bowl sides, add cocoa, liqueur, vanilla, egg and egg white, and pulse 1 minute. Scrape bowl and pulse 1 more minute until smooth. Add chocolate chips and pulse quickly to combine.
Pour filling over crust in springform pan and bake uncovered until nearly set and filling jiggles only slightly when nudged (about 50 minutes). Meanwhile, prepare topping: combine sour cream, sugar and cocoa and set aside.
When cheesecake has baked 50 minutes, carefully smooth topping over surface and sprinkle with hazelnuts. Bake uncovered 10 minutes more.
Transfer cheesecake to wire rack and cool to room temperature in upright pan, then cover loosely with plastic wrap and chill several hours before serving.
Note: Dutch process cocoa has deeper chocolate flavor than its American counterparts. The cheesecake contains 254 calories, 14 g fat, 52 mg cholesterol and 230 mg sodium.
Recipe from Good Morning America Cut the Calories Cookbook c.2000, Hyperion
Other Recipes That You Might Like