Emeril's Potato Soup
Emeril Lagasse's St. Patrick's Day Recipe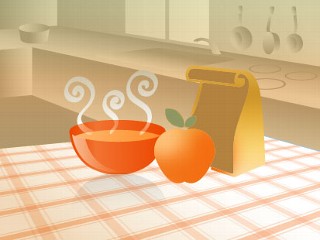 From the kitchen of Emeril Lagasse
|
This Irish Potato Soup from Emeril Lagasse is a snap to make and a joy to eat.
Ingredients
1/4 cup unsalted butter (1/2 stick)
2 cups yellow onions, chopped
1 cup celery, chopped
1/2 tsp. salt
1/4 tsp. cayenne
1 bay leaf
2 tbsp. garlic, chopped
8 cups chicken broth
2 large baking potatoes (about 2 lbs.), peeled and diced
1/4 cup heavy cream
Cooking Directions
Melt the butter in a large, heavy pot or Dutch oven over medium-high heat.
Add the onions, celery, salt, and cayenne and cook, stirring, until the onions are soft and lightly golden, about five minutes.
Add the bay leaf and garlic and cook, stirring for two minutes. Add the broth and potatoes and bring to a boil.
Reduce the heat to medium-low and simmer, uncovered, until the potatoes are soft about 30 minutes.
Remove the soup from the heat. Discard the bay leaf.
With a hand-held immersion blender, or in a food processor or regular blender in batches, process until smooth. Slowly add the cream and stir to blend.
To serve, ladle into soup bowls and serve hot.
Recipe copyright ©1999 by Emeril Lagasse
Other Recipes That You Might Like