Emeril's Apple Custard Pie
A Creamy Concoction for Dessert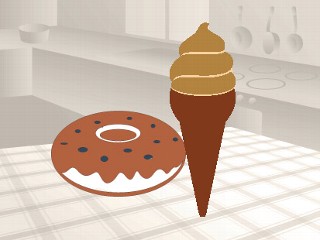 From the kitchen of Emeril Lagasse
Emeril Lagasse shared his twist on the classic apple pie with Good Morning America.
Ingredients
1 cup bleached all-purpose flour
Pinch salt
2 tbsp. plus 1/4 cup granulated sugar
1/3 cup vegetable shortening
2 tbsp. ice water
2 tbsp. unsalted butter
1 cup light brown sugar, firmly packed
1/2 tsp. plus 1/8 tsp. ground cinnamon
2 lbs. Granny Smith apples, peeled, cored, and cut into 1/4 inch thick slices
1 large egg, lightly beaten
1 cup heavy cream
1 large egg yolk
1/2 tsp. pure vanilla extract
1 tbsp. confectioners' sugar
1 recipe Sweetened Whipped Cream
Cooking Directions
In a medium-size mixing bowl, combine the flour, salt, and two tablespoons of the granulated sugar. Add the shortening and work it in with your hands until the mixture resembles coarse crumbs. Add the water one-tablespoon at a time, working it in with your hands. Form the dough into a smooth ball, wrap in plastic wrap, and refrigerate for at least 30 minutes.
Preheat the oven to 350 degrees.
In a large skillet over medium heat, melt the butter. Stir in the brown sugar and cook, stirring, for one minute. Add 1/2 teaspoon of the cinnamon and the apples. Cook, stirring to coat the apples with the sugar syrup, for three minutes. Remove from the heat and turn into a 9-inch deep-dish pie pan.
Remove the dough from the refrigerator and let stand for about five minutes.
Lightly flour a work surface and roll out the dough into a circle twelve inches in diameter and 1/8 inch thick. Gently fold the dough in half, and then in half again. Place it over the apples in the pie pan an unfold it. crimp the edges around the rim of the pan. Brush the dough with the beaten egg. With a sharp knife, make a one-inch circle in the center of the pie. Bake for 15 minutes. Remove from the oven.
In a mixing bowl, whisk together the remaining 1/4 cup granulated sugar, the cream, egg yolk, vanilla, and the remaining 1/8 teaspoon cinnamon. Pour the custard through the hold in the piecrust. return to the oven and bake until the custard sets, about 30 minutes. Remove from the oven and let cool completely.
Sprinkle the top of the pie with the confectioner's sugar, spoon onto serving plates, and garnish with the whipped cream to serve.
Recipe copyright ©1999 by Emeril Lagasse
Recipe Summary
Main Ingredients: granny smith apples, brown sugar, cinnamon
Course: Dessert