Emeril's Lemon Icebox Pie
Emeril Lagasse's Cool Summer Treat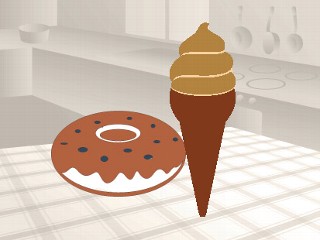 From the kitchen of Emeril Lagasse
Only 8 ingredients are needed to make 8 tasty tarts.
Ingredients
2 cups graham cracker crumbs
1 stick unsalted butter
1 cup sugar
1/2 cup cornstarch
1 cup fresh lemon juice
1 cup water
6 large egg yolks
6 large egg whites
1/4 cup sugar
Cooking Directions
Preheat oven to 350 degrees F.
In a medium-sized mixing bowl, combine 2 cups graham cracker crumbs and 1 stick unsalted butter, melted and slightly cooled, mixing to blend. Put 1/4 cup of the mixture into each of eight 4-inch individual fluted tartlet pans with removable bottoms. Or you can use a larger pie pan if you prefer. Line the tart pans with the crust, using your fingers to press the crust into the bottom and up the sides of the pans. Put them on a baking sheet, cook for 15 minutes at 350 degrees. Remove, cool on a wire rack.
To make the filling: In a saucepan, combine 1 cup sugar and 1/2 cup cornstarch, whisk until blended. In a small mixing bowl, combine the lemon juice and water. Slowly whisk this into the sugar cornstarch mixture. Over medium heat, bring to a gentle boil and whisk occasionally until the mixture begins to thicken, about 5 minutes.
Add 1/4 cup mixture to 6 large egg yolks that have been slightly beaten. Whisk to blend. Then add this mixture to the saucepan and whisk until thick enough to coat the back of a spoon, about 5 minutes. Pour about 1/3 of the mixture into baked tart shells. Place on a baking sheet and refrigerate until the filling sets for 2 hours. Remove tarts from the pan and place on a baking sheet. The other 2/3 of the filling are supposed to go in to any extra tart shells that you have prepared with the crust. The recipe makes 8 small or 1 large one.
Make the meringue by whipping together 6 egg whites and 1/4 cup sugar. Beat on high speed with an electric mixer until stiff peaks form. Spread the top of each tart with an equal portion of the meringue. Bake on the top rack of the oven until the meringue is lightly brown, approximately 6 minutes in a 450-degree oven. Cool before serving.
Recipe copyright ©2000 by Emeril Lagasse
Recipe Summary
Main Ingredients: lemons, eggs, graham crackers
Course: Dessert