Charlie's Apple Crumb Cheese Pie
A Perfect Way to Complete Your Thanksgiving Meal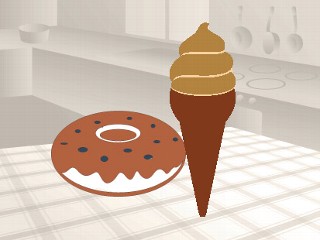 From the kitchen of Charles Gibson
Here are some great Thanksgiving Day recipes straight from the "Good Morning America" family.
Ingredients
Crust
1 cup all purpose flour
1/2 teaspoons salt
1/3 cup shortening
1/2 cup cheddar cheese, shredded
4 tablespoons ice water
Filling
2 cans sliced apples (4 ounces, or 3 Granny Smith and 3 Golden Delicious apples)
1 tablespoon flour
2/3 cup sugar
1 1/2 teaspoon ground cinnamon
1/2 teaspoon ground nutmeg
1/2 cup cheddar, shredded (for last steps)
Crumb Topping
1/2 cup butter (or margarine)
1/3 cup firmly packed brown sugar
1 1/4 cup all purpose flour
Confectioners sugar, for sprinkling over the top of the pie
Cooking Directions
Crust
In a large bowl combine one cup of the flour and the 1/2 teaspoon of salt. Stir with a wire whisk.
Cut the shortening into small cubes and add to the flour along with the 1/2 cup of cheese. Toss together and break up lumps by gently running the mixture between your fingers until it resembles coarse crumbs.
Add the ice water and stir until it is a dough like consistency .
Press into a ball, then pat into a disk. Cover with plastic wrap and refridgerate for one hour.
Filling
Peel and core the apples.
Slice the apples thinly. Place in a large bowl.
Add the one tablespoon of flour, 2/3 cup sugar, cinnamon and nutmeg to the bowl. Toss to combine.
Crumb Topping
Cut the 1/2 cup of butter or margarine into small cubes and place into a medium sized bowl.
Add all the brown sugar and the 1 1/4 cups of flour to the bowl. Combine, by breaking up the lumps slightly by running the mixture gently through your fingers.
Preheat the oven to 400 degrees.
Roll out pie crust and place into a 9-inch pie pan. Flute the edges.
Place prepared filling into the shell. Top with the cheese then press crumb topping, on top.
Bake for 35 - 45 minutes until crust and topping are golden brown and apples are tender. Place aluminum foil on top if crumbs are browning too quickly.
When the pie is cool, sprinkle with confectioners sugar.
Recipe Summary
Main Ingredients: cheddar cheese, apples, butter, flour, shortening, brown sugar
Course: Dessert