Applesauce Cake with Caramel Icing
Cooking With Faith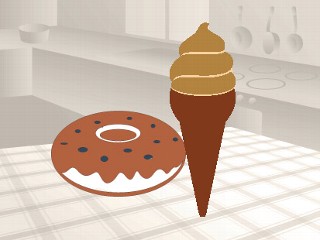 From the kitchen of Faith Ford
In her new book, Cooking With Faith, comic actress Faith Ford shares her down-home cooking recipes, southern classics that have been passed down from one generation of her family to the next.
Applesauce Cake with Caramel Icing
Ingredients
Cake
1 cup unsalted butter (2 sticks), softened, plus additional for the pans
3 cups sifted all-purpose flour, plus additional for the pans
2 teaspoons baking soda
2 teaspoons ground cinnamon
1 teaspoon nutmeg, grated
1/4 teaspoon ground clove
1/4 teaspoon ground allspice
1 teaspoon salt
2 cups sugar
3 large eggs
2 1/2 cups unsweetened applesauce (one 23-ounce jar)
2 teaspoons vanilla extract
2 cups raisins, chopped
2 cups walnuts, toasted and chopped
Caramel Icing
2 1/2 cups sugar
1 1/2 cups heavy cream, plus additional if needed
1/2 teaspoon salt
4 tablespoons unsalted butter (1/2 stick)
1/4 teaspoon baking soda
9 walnut halves (or 1/2 cup coarsely chopped toasted walnuts)
Cooking Directions
Cakes
Preheat the oven to 350 degrees F. Grease and flour three 9-inch cake pans.
Sift the flour, baking soda, cinnamon, nutmeg, cloves, allspice, and salt together in a large mixing bowl. In another bowl, beat the sugar and butter together until light and fluffy, 3 to 5 minutes, then add the eggs one at a time, beating well after each addition. Stir in the applesauce and vanilla, then begin mixing in the dry ingredients a little at a time until well combined. Fold in raisins and walnuts.
Pour the batter into the prepared pans and bake for about 35 minutes, until the tops spring back when lightly pressed. Let the layers cool on a wire rack. The layers can be kept, well wrapped and refrigerated, for up to two days or frozen for up to one month.
Caramel Icing
Combine 1 1/2 cups of the sugar, the cream, and the salt in a heavy-bottomed saucepan. Bring to a simmer over medium-low heat, stirring until the sugar has dissolved.
Stir together the remaining 1 cup sugar and 1/4 cup water in a small, heavy skillet (preferably one that has a pouring lip). Cook the sugar mixture over medium heat, without stirring, until it melts and turns an amber color, about 10 minutes.
Add the caramelized sugar to the simmering sugar and cream mixture a little at a time, stirring it up from the bottom (adding the caramelized sugar all at once will cause the mixture to boil over). Cook on medium heat until the mixture reaches the soft-ball stage (it will register 240 degrees F on a candy thermometer, and when a spoonful is dropped into a dish of very cold water, it will come together into a soft, malleable ball), about 10 minutes.
Take the mixture off the heat and stir in the butter and baking soda. Let cool slightly, or speed the process by placing the bottom of the saucepan in a pan of ice water and stirring constantly. Beat the mixture with a wooden spoon until it begins to lose gloss but is still easy to spread, two to three minutes.
Spread some of the icing thinly over a cooled cake layer, then stack another layer on top and repeat the process until all three layers are assembled. Spread icing over the top and around the sides of the cake, thinning the icing with a little more cream if it becomes too thick. Garnish the outside edge of the top of the cake with walnut halves or sprinkle the top with chopped walnuts. Wait to cut the cake until the moisture penetrates it, (at least one day and up to two days) or it will tend to crumble. Store it at room temperature under a cake dome or lightly wrapped in plastic wrap for up to four days.
Recipe Summary
Main Ingredients: cloves, applesauce, walnuts
Course: Dessert