Roasted Turkey with Endive, Apple and Walnut Salad
Daniel Boulud's Low-Carb Recipe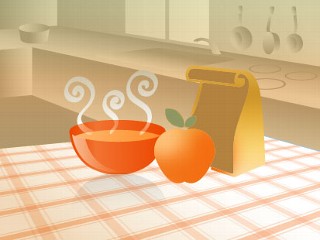 From the kitchen of Daniel Boulud
|
Looking for a low-carb recipe? Top New York chef Daniel Boulud, executive chef and owner of Daniel, shared his recipe for Roasted Turkey with Endive, Apple and Walnut Salad.
The roasted turkey salad contains 446 calories and 13 grams carbs per serving.
Ingredients
2 pounds turkey breasts (boneless and skinless)
Salt and crushed whole black peppercorns
1 teaspoon brown sugar
3 tablespoons canola oil
4 strips turkey bacon
2 cloves garlic
1 large bay leaf
1 stick cinnamon
1/4 cup canola oil
1 tablespoon sherry vinegar
1 1/2 teaspoons Dijon mustard
Freshly ground black pepper
4 medium red Belgian endive, cut lengthwise into 6 pieces
4 medium yellow Belgian endive, cut lengthwise into 6 pieces
2 medium Fuji apples, peeled, cored, and julienned
1/2 bunch flat-leaf parsley, leaves only
1/4 cup walnuts, crushed and toasted
Cooking Directions
Cut the turkey breasts into 1-inch steaks and season with salt, crushed black pepper, and the brown sugar.
Warm the canola oil in a large non-stick pan over medium-high heat. When the oil is hot, add the bacon, garlic, bay leaf, cinnamon stick, and turkey to the pan and cook the meat until golden brown, 6 to 8 minutes on each side.
Transfer all the ingredients to a shallow bowl and cover the bowl tightly with plastic wrap for at least 10 minutes.
Remove the plastic wrap and cut each breast into 1/4-inch-thick slices. Set aside the turkey slices and reserve any turkey juices that have accumulated on the bottom of the bowl.
Discard the bacon, garlic, bay leaf, and cinnamon stick.
Whisk together the canola oil, vinegar, mustard, and the reserved turkey juice together; season to taste with salt and pepper.
Toss together the red and yellow endives, apples, parsley, walnuts and turkey in a large bowl. Add enough vinaigrette to lightly coat the salad.
Used with permission. Adapted from Daniel's Dish: Entertaining at Home with a Four Star Chef by Daniel Boulud. Copyright, Filipacchi Publishing, 2003.
Other Recipes That You Might Like