Emeril Lagasse's Chili con Queso
A Hot and Zesty Recipe for Your Super Bowl Party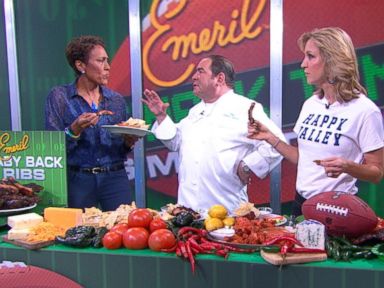 Celebrity chef Emeril Lagasse delivers his unique take on classic snacks for the big game.
From the kitchen of Emeril Lagasse
Dig into celebrity chef Emeril Lagasse's Chili con Queso. The zesty dish is sure to win your Super Bowl party.
Ingredients
1/2 pound fresh poblano or Anaheim chiles
2 tablespoons vegetable oil
1 cup chopped white onions
1/4 teaspoon cayenne
2 tablespoons all-purpose flour
1 large tomato, peeled, seeded and diced
1 cup milk or cream
1 1/2 cups grated Cheddar cheese
1 cup grated Pepper Jack cheese
Cooking Directions
Roast the peppers by placing them on an open gas flame, turning them frequently with tongs until all sides are charred black, about 7 to 10 minutes. (Alternately, the peppers can be roasted under a broiler, or on top of a gas or charcoal grill.)
Peel the peppers, split in half lengthwise, and discard the seeds and the stems. Roughly chop and set aside.
In a large pot, heat the oil over medium heat. Add the onions and cayenne cook, stirring, until very soft, about 6 minutes. Add the flour and stir until thickened, 1 to 2 minutes. Add the tomatoes and chopped chilies, and cook for 1 minute. Slowly add the milk or cream and stir until thick, 3 to 4 minutes. Add the cheeses and cook, stirring, until melted and well incorporated. Remove from the heat and adjust the seasoning, to taste.
Serve immediately with chips, or swirled into Chili con Carne.
Recipe courtesy Emeril Lagasse, copyright MSLO, Inc., all rights reserved
Recipe Summary
Main Ingredients: chilies, onions, cream, cheddar cheese
Course: Appetizer/Starter, Dip, Pasta, Snack