Pat Conroy's Shrimp Salad
Life, Love, Memories and Food Are Covered in Conroy's Latest Book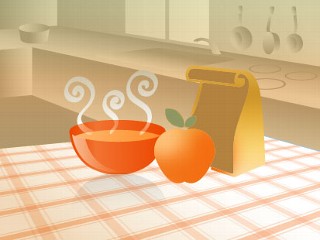 From the kitchen of Pat Conroy
Pat Conroy, one of America's favorite storytellers, talked about his unique cookbook on Good Morning America.
The book offers a great collection of amazing recipes and stories about his life that relate to the food.
Check out the following recipes from "The Pat Conroy Cookbook" by Pat Conroy.
Ingredients
1 pound large shrimp (21-25 count), peeled and deveined
2 tablespoons mayonnaise
2 tablespoons sour cream
1 tablespoon fresh tarragon, finely minced
1 teaspoon fresh lemon juice
1 teaspoon tarragon vinegar
1/4 cup celery, finely diced
1/4 cup scallions, finely minced
1 teaspoon coarse or kosher salt
1/2 teaspoon freshly ground white pepper
Cooking Directions
In a medium stockpot over high heat, bring 4 quarts abundantly salted water to a rolling boil. Add the shrimp and cook until just pink, about 3 minutes. Immediately transfer to a colander and run under cool water to stop the shrimp from cooking any further (only takes several seconds; shrimp should still be slightly warm when dressed). Shake the colander to drain any excess water.
In a small bowl, mix together mayonnaise, sour cream, and tarragon. Set aside.
In a medium mixing bowl, toss the warm shrimp with the lemon juice and vinegar. Stir in the celery and scallions. Add the mayonnaise mixture, salt, and pepper and toss to coat. Cover and refrigerate until ready to serve. Taste to correct seasoning. Serves 4 as a first course or sandwich filling. Serves 2 as a light lunch.
Excerpted from The Pat Conroy Cookbook by Pat Conroy copyright © 2004 by Pat Conroy. Excerpted by permission of Doubleday (Doubleday.com) a division of Random House, Inc. All rights reserved. No part of this excerpt may be reproduced or reprinted without permission in writing from the publisher.
Recipe Summary
Main Ingredients: shrimp, tarragon, scallions
Course: Appetizer/Starter, Lunch, Salad