Emeril's Sweet 'n Sassy Sloppy Joes
Emeril Lagasse Cooks With The Children's Storefront School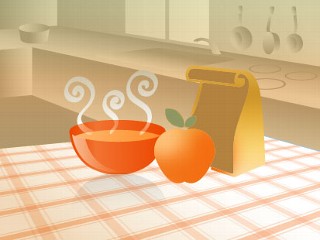 From the kitchen of Emeril Lagasse
Chef Emeril Lagasse brought his New Orleans sensibility to The Children's Storefront School, an independent tuition-free school in Harlem, N.Y., that features monthly food workshops for its students. He cooked up Sweet 'n Sassy Sloppy Joes, Grilled Foil Pouch Chicken and Sweet Corn, and Just Chillin' Chocolate Fridge Pie.
The workshops at The Children's Storefront School range from studying the history of chocolate to a garden table project to learn where food comes from. The school's kitchen was not in great shape, so in addition to fixing up these delicious dishes, Emeril also helped fix up the kitchen.
Ingredients
2 tablespoons olive oil
1 1/2 pounds lean ground turkey
1/2 cup yellow onion, chopped
1/4 cup carrots, chopped
1/4 cup celery, chopped
1 tablespoon garlic, minced
1/2 cup red wine vinegar
1 can tomato sauce (14.5-ounce)
2 tablespoons brown sugar
1 tablespoon Baby Bam
1/2 teaspoon Emeril's Italian Essence or other dry Italian seasoning
1/4 teaspoon ground black pepper
1/8 teaspoon salt
6 hamburger buns
Cooking Directions
Heat the oil in a large skillet over medium heat. Add the ground turkey and cook, stirring, until brown, about 5 minutes.
Using a large spoon, carefully remove any excess liquid or fat from the pan and discard. To the meat, add the onion, carrots, and celery and cook, stirring, until soft, about 3 minutes.
Add the garlic and cook until fragrant, about 30 seconds. Add the red wine vinegar, stirring.
Add the tomato sauce, brown sugar, Baby Bam, Italian Essence, pepper, and salt. Stir to mix and bring to a gentle boil. Reduce the heat to medium-low and simmer for 15 minutes.
Meanwhile, position rack in center of oven and preheat the oven to 375ºF. Place the buns on a baking sheet and warm in the oven for about 5 minutes.
Using oven mitts or pot holders, remove the baking sheet from the oven. Serve the Sloppy Joes by spooning 1/2 cup of the meat mixture onto the bottom half of each bun and top with the other half. Serve warm.
Recipe Summary
Main Ingredients: ground turkey, garlic, brown sugar
Course: Dip, Lunch, Party Platter