Fudgy, Make-Your-Belly-Pudgy Brownies
Carnie Wilson Serves With Love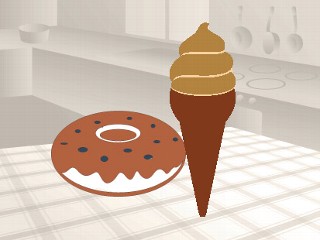 From the kitchen of Carnie Wilson
|
Besides her hit song "Hold On" as a member of the group Wilson Phillips, her rock 'n' roll roots (she is the daughter of Beach Boy Brian Wilson and her own talk show, Carnie Wilson is also well known for her relationship with food. Her gastric bypass surgery was broadcast live on the Internet in 1999.
Wilson's latest project is a cookbook called "To Serve with Love." It contains recipes so good that she claims they "made me fat." But Wilson writes about enjoying food -- "just have the real thing and eat less."
These four-layer brownies are totally decadent. They remind me of a chewy, frosted cake, and the peanut butter makes them off the hook! To send someone you love to places they've never been, serve these warm with some vanilla ice cream. Oh, Mama...
Ingredients
First Layer
1 cup butter
1/3 cup Hershey's cocoa (or your favorite brand)
2 cups sugar (Lord help us!)
4 eggs
1-1/2 cups flour
1/2 tsp. salt
1 tsp. vanilla
Second Layer
1-1/4 cups chunky peanut butter (I use Skippy)
Third Layer
1/2 cup butter
1/4 cup Hershey's cocoa
1/3 cup whole milk
8 large marshmallows (this is the gene part)
1/2 tsp. salt
1 tsp. vanilla
1 16-oz. box powdered sugar, sifted (Huh? Put through a small-mesh sieve and "tap through" until there are no lumps.)
Fourth Layer
Caramel sauce, melted
pecans and almonds, chopped
Cooking Directions
Preheat oven to 350. Grease a 13" x 9" x 2" pan with butter. (Now's the time to turn back if you're too afraid of the calories!) For the first layer, melt the cup of butter and cocoa in a double boiler. (Tip: You can also use a heatproof bowl or a saucepan sitting over another that contains simmering water, or use a microwave.) Remove from the heat and cool. Blend in the sugar, eggs, and vanilla; combine with the flour and salt and add to the chocolate mixture. Mix to combine until there are no big lumps; pour into the greased pan and bake for 20-30 minutes. It will rise a little, and when you poke the center with a toothpick, it should come out just about clean. But do not overbake: You want these puppies moist!
Now, for the second layer: Spoon the peanut butter over the hot cake and spread it evenly while it's melting. (For-Your-Hips Tip: Don't eat any yet. Let it cool -- I mean it!)
In a small saucepan, melt the butter, cocoa, milk, and marshmallows; add the salt and vanilla. Beat in the powdered sugar until it's totally combined with no lumps. (This is where I start to drool, but not in the pan!) Spread this third layer over the cooled peanut butter and check your pulse.
Finally, drizzle the heated caramel sauce over the frosting and sprinkle with nuts if desired. Cut into squares the size of your choice and quickly shove into your mouth.
Other Recipes That You Might Like