Feasty Halloween Caramel Pie
Halloween Recipes from the Feasty Boys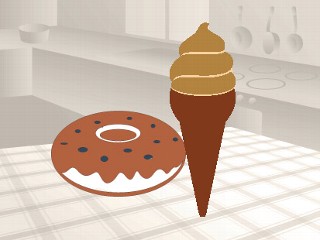 From the kitchen of The Feasty Boys
|
Are you looking for a special Halloween meal? The Feasty Boys -- Jon Mayer and Jim Stump of the popular ESPN show "The Feasty Boys" -- showed "Good Morning America Weekend Edition" how to make Hallo"weenies" and beanies and feasty Halloween caramel pie.
Ingredients
1 frozen pie crust
2 six-ounce cans sweetened condensed milk
2 Red Delicious apples, sliced
whipped cream
Cooking Directions
Remove wrappers from cans of condensed milk and place, unopened, into a large pot. Add enough water to completely cover cans. Place pot on stove and bring to a slow boil. (It's important that the water is brought to a slow boil and maintained. Below a boil the milk won't cook, and too rapid a boil could cause the cans to explode). Allow pot to boil for 2 1/2 hours, adding water as needed to keep the cans completely submerged. Once cans have sufficiently boiled from from heat, carefully remove the cans from hot water with tongs and set them aside for approx. 5 minutes to allow minimal cooling.
While the cans boil, place pie crust in the oven and bake as directed. Set aside and allow to cool.
Approximately 30 minutes prior to the conclusion of the cans cooking, thinly slice apples and place in a medium-sized bowl of water with a few squirts of lemon juice to prevent browning.
While the cans cool, line the pie crust with sliced apples. Carefully open the cans and spoon caramel (which the condensed milk turned into) into the pie crust atop apples. Distribute evenly and place in refrigerator to cool. Top with whipped cream, slice and serve.
For that extra Halloween twist, omit the apples and simply top the caramel with some leftover Halloween candy -- M&Ms or chopped Snickers, Milky Way, Twix, peanut brittle, etc.
Other Recipes That You Might Like