Jaeger Schnitzel With Spaetzle
With 'Eat and Greet,' You Can Cook Along With the Chefs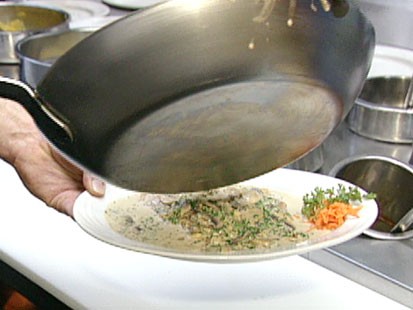 From the kitchen of Dieter Weber
On this week's "Eat and Greet," ABCNews' Katrina Szish went inside the kitchen of Upper East Side's Heidelberg Restaurant to bring you executive chef Dieter Weber's German recipe for Jaeger Schnitzel.
Jaeger Schnitzel is a veal cutlet with a mushroom cream sauce, and Spaetzle is a homemade egg noodle.
Ingredients
Spaetzle (Makes 2 to 3 portions)
1 cup flour
1/3 to 1/2 cup milk
1 egg
1 tsp. salt
Jaeger Schnitzel
Veal cutlet, pounded thin and floured both sides
1/2 cup mushrooms, sliced (or more if desired)
1 tsp. garlic and fresh parsley, chopped
2 tbsp. onion (or shallots), finely chopped
Shot of white wine
Shot of cream (or half & half)
6 oz. brown gravy
Cooking Directions
Spaetzle
Beat well until batter shows air bubble. Pour batter into spaetzle maker over simmering water. Let spaetzle rise to top, drain well, and rinse with cold water.
Jaeger Schnitzel
Pan with oil/ butter, mix hot, saute veal cutlet on both sides until lightly browned. Take cutlet out of pan, keep to side. Add mushrooms, garlic, onions and parsley, and saute until partially cooked. Add shot of wine, de-glaze pan, then add gravy and shot of cream. Put cutlet back in pan and let simmer in sauce for one minute to two minutes.
Recipe Summary
Main Ingredients: veal, mushrooms, flour, shallots
Course: Dinner, Main Course, Pasta