Cheese Souffle at New York's Payard Bistro
Twice Baked Upside Down Cheese Soufflé with Parmesan Cream Sauce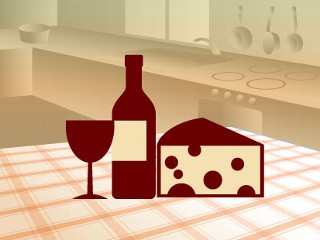 From the kitchen of Philippe Bertineau
For "Good Morning America's" "Eat and Greet," ABC's Christianne Klein visits New York's Payard Bistro. Executive Chef Philippe Bertineau gives her his classic French recipe for Cheese Soufflé.
Ingredients
Equipment
blender
whisk
table mixer with a paddle
wooden spoon
12 each of 4-ounce aluminum muffin tins
cooking spray
2-inch deep rectangular cake pan
pastry bag
Cheese Soufflé:
1 cup butter
1 cup flour
1 cup Parmesan cheese, grated
1/2 cup gruyere cheese, shredded
1 3/4 cup milk
1 garlic clove, lightly crushed
1 pinch nutmeg, freshly grated
6 eggs
Salt, to taste
White pepper, to taste
White truffle oil (optional)
Parmesan Cream Sauce:
1 3/4 cup cream
1/2 cup milk
1 cup Parmesan, grated
White pepper
Salt
Cooking Directions
Preheat the oven to 350 degrees F, and bring about 2 quarts of water to a boil.
For the Parmesan cream sauce, bring the cream and milk to a boil and pour into a blender with the grated Parmesan cheese. Blend until smooth and season with salt and pepper. Reserve for later use. (The Parmesan cream can be made ahead of time and refrigerated for up to 3 days.)
In a small pot place the milk with the garlic and season with salt, pepper and nutmeg and bring to a boil. In a separate pot, melt the butter and whisk in the flour to make a roux, cook for 3-4 minutes, and then strain the milk into the pot with the roux and bring back to a simmer, whisking continuously. Place the cooked milk mixture in the mixer with a paddle mix on low speed and add the Parmesan and gruyere cheeses. Meanwhile, whip the egg whites in a small bowl with a whisk until they reach stiff peaks. Once the cheeses are incorporated, add the egg yolks. Fold the whipped egg whites into the mixture by hand, using a spoon.
Spray the aluminum cups generously with the cooking spray and place the cups about 1 inch apart in a pan with high sides. Fill the cups with the cheese mixture, using a spoon or a pastry bag. Place in the preheated oven and fill the pan with the hot water 3/4 to the top of the ramekins. Bake in the oven for 8-10 minutes. (The cheese soufflé should firm on the outside when cooked but be very soft and springy to the touch on the inside.) Carefully turn the soufflés upside down into 6 soup bowls and gently remove the aluminum cups. Place the soufflés under a broiler for 1-2 minutes until they brown on the top. Pour the warm parmesan cream around the sides of the soufflé.
Place a drop of the white truffle oil on each of the soufflés and serve hot.
Recipe Summary
Main Ingredients: parmesan cheese, gruyere, garlic, nutmeg
Course: Appetizer/Starter