Wolfgang Puck's Braised Kobe Short Ribs
Recipe From the Governor's Ball Feast on Oscar Night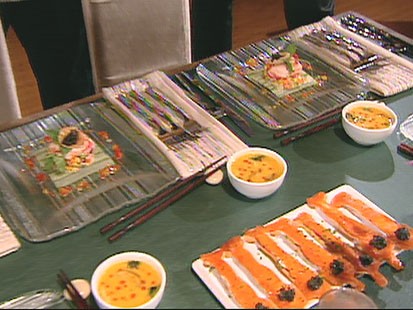 Wolfgang Puck describes his Oscar dinner menu.
From the kitchen of Wolfgang Puck
|
What do you get when you combine more than 7,000 shrimp and 1,200 bottles of champagne? A party fit for an Oscar winner!
The Governor's Ball is Hollywood's biggest bash of the year and the first on every celebrity's party list come Oscar night. Chef Wolfgang Puck is once again putting together a feast for all those famous partygoers.
You can get a taste of two dishes that will be served at the Governor's Ball. Find the recipe for Kobe Short Ribs below.
Ingredients
1 bottle Cabernet Sauvignon
2 tablespoons vegetable oil
6 Kobe short ribs, trimmed (regular beef short ribs can be used)
Salt
1 teaspoon black peppercorns, crushed
Flour, for dredging
10 cloves garlic, peeled
8 large shallots, peeled, trimmed, rinsed, split and dried
2 medium organic carrots, peeled, trimmed and cut into 1-inch lengths
2 stalks organic celery, peeled, trimmed and cut into 1-inch lengths
1 medium leek, white and light green parts only, coarsely chopped
6 sprigs Italian parsley
2 sprigs thyme
2 bay leaves
2 tablespoons tomato paste
2 quarts unsalted organic beef stock (or chicken stock)
Freshly ground white pepper
Cooking Directions
Put the wine in a large saucepan and bring to a boil over high heat. Continue boiling until the liquid reduces to half its original volume, 20 to 30 minutes. Remove from the heat and set aside.
Center a rack in the oven and preheat the oven to 350 degrees F.
Heat the oil in a Dutch oven or large casserole, large enough to hold 6 ribs, over medium-high heat. Season the ribs all over with salt and the crushed pepper. Dust the ribs with about 2 tablespoons of flour and then when the oil is hot, slip the ribs into the pot and sear for 4 to 5 minutes on each side, until well browned.
Transfer the browned ribs to a plate. Remove all but 1 tablespoon of fat from the pot; lower the heat to medium, and toss in the vegetables and herbs. Brown the vegetables lightly, 5 to 7 minutes, then stir in the tomato paste and cook for 1 minute to blend.
Add the reduced wine, browned ribs, and stock to the pot. Bring to a boil; cover the pot tightly, and slide it into the oven to braise for about 2 ½ hours, or until the ribs are tender enough to be easily pierced with a fork. Every 30 minutes or so, lift the lid and skim and discard whatever fat may have bubbled up to the surface.
Presentation:
Using six heated serving plates, place one rib in the center of each plate. Serve with Spring Vegetable Risotto.
Recipe courtesy of Wolfgang Puck
Other Recipes That You Might Like