Buffalo Chicken Lasagna
Stephanie O'Dea Shares Her Slow-Cooker Meals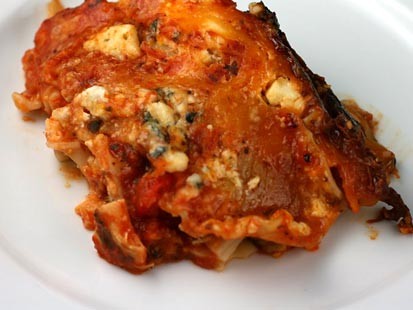 From the kitchen of Stephanie O'Dea
Mother of two Stephanie O'Dea gave herself a challenge: Use a slow cooker every day for a year to feed her family. What began as a way to save time and money turned into 365 days of good eats.
Check out two her recipe for Buffalo Chicken Lasagna and visit http://crockpot365.blogspot.com for more.
Ingredients
uncooked traditional lasagna noodles (I used Tinkyada brand)
4 chicken breast halves, previously cooked
1 jar prepared pasta sauce
1 cup buffalo wing sauce
3 bell peppers (red, yellow, or orange)
1 tub of ricotta cheese (15 ounces)
2 cups shredded cheese (mozzarella and cheddar blend)
1/2 cup bleu cheese crumbles
1/4 cup water (add at very end)
Cooking Directions
Use at least a 5-quart slow cooker, or cut back on the amount of ingredients.
In a large glass bowl, combine cooked and chopped chicken breasts, the pasta sauce, and 1 cup of buffalo wing sauce.
Ladle a big spoonful of the sauce into the bottom of your crockpot. Cover with a layer of uncooked lasagna noodles. You'll have to break them to get a proper fit.
Add a smear of ricotta cheese to the top of the noodles. Add a layer of chopped bell peppers. Sprinkle on a handful of shredded cheese.
Repeat layers until you run out of ingredients.
Add the bleu cheese crumbles, if desired. Put the 1/4 cup of water into your empty pasta sauce jar and shake. Pour the liquid over the top of the entire lasagna.
Cover and cook on low for 6-7 hours, or on high for 4-5 hours. When cooking time is complete, unplug and take off the lid of the crock. Let it sit for 20 minutes before cutting into it, or it will fall apart. Ask me how I know this.
Recipe Summary
Main Ingredients: chicken, bell peppers, ricotta cheese, mozzarella cheese
Course: Casserole, Lunch, Dinner, Main Course