Fabio Viviani's Chicken Piccata with Prosciutto and Artichoke
A Meal of Top Chef Proportions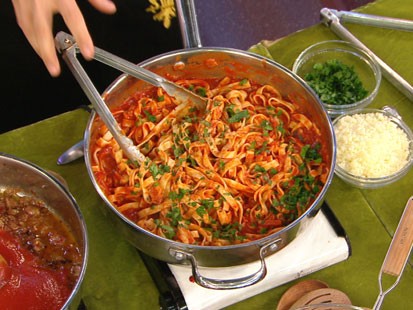 The "Top Chef" contestant prepares fettuccine amatriciana and other recipes.
From the kitchen of Fabio Viviani
|
Fabio Viviani was the handsome, charming Italian "Top Chef" contestant "fresh out of the boat," as he put it, who didn't take home top honors but did capture viewers' hearts.
He was recently voted the "fan favorite" of the popular Bravo TV reality show and took home $10,000.
From Florence, Italy, Viviani, 31, is owner and executive chef of Café Firenze Italian Restaurant and Martini Bar, in Ventura County, Calif. Here he shares some of his best recipes.
Ingredients
2 chicken breast halves (boneless, skinless)
1 stick butter, divided in half
4 slices prosciutto, sliced thinly
4 leaves fresh sage
1 small jar marinated artichokes, drained (you will need about a handful of them)
1 cup dry white wine
Salt & pepper
Olive oil
Cooking Directions
Place each chicken breast half between two sheets of plastic wrap, and pound until about a 1/4 of an inch thin. Season with salt and pepper.
On each seasoned and pounded chicken breast, place 2 sage leaves, then top with 2 slices of prosciutto, so that you have the sage sandwiched between the chicken and the prosciutto.
Melt half a stick of butter in a large skillet over medium-high heat. Add the chicken to the pan with prosciutto and sage-side down. Let cook for about 3 to 4 minutes; until the edges of the chicken turn white.
Turn chicken over and cook on other side for an additional 3 to 4 minutes (with prosciutto facing up). Add artichokes and wine. Simmer this until the wine has reduced by half, you will see it became thicker.
Place chicken on a platter, and finish the pan sauce by whisking in the rest of the butter.
*Recipe courtesy of Chef Fabio Viviani, owner & executive chef of Café Firenze in Moorpark, Calif.
Other Recipes That You Might Like