Slow Cooked Chicken Dressing
Try Merrie Youngblood's winning recipe!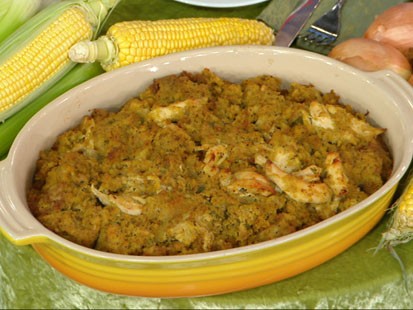 The slow-cooker challenge champion prepares her winning recipe.
From the kitchen of Merrie Youngblood
|
"GMA" put out the call and hundreds of viewers e-mailed us their super slow-cooker recipes.
After thousands of votes, Merrie Youngblood's Chicken Dressing came out on top in Emeril's Slow-Cooker Challenge.
Ingredients
1 cup chopped onion
1 cup chopped celery
1/4 cup oil
1 tbsp salt
1 tbsp sage
1 tsp poultry seasoning
2 cups white bread (day old)
8 cups corn bread
2 cans cream of chicken soup
2 cans chicken broth (from 3 breasts)
3 eggs
1 tbsp vinegar
3 chicken breasts
Cooking Directions
Stew chicken breasts until done; cook the onion and celery until tender in the oil. Add salt, sage and poultry seasonings; combine the breads in a large mixing bowl.
Stir in the cooked onion, celery, salt, sage and poultry seasonings.
In a small bowl combine the soup, broth, eggs, and vinegar. Combine with other ingredients in a large bowl, mix well. Pour into Crock-Pot and cook on high for 30 minutes.
Turn heat down to low and cook 3-4 hours. About 1 hour before it's done, add the broken pieces of chicken. I believe you will find this to be the easiest and the most complimented dressing you have.
I love it because on the holidays, I have every eye on my stove covered, the oven baking several things and I stay calm, because my dressing is cooking and has the most wonderful aroma drifting through the house.
This recipe is a favorite everywhere I have taken it. I believe your viewers will adore it, for its simplicity.
Other Recipes That You Might Like