Slow Cooked Ribs Served With Mashed Potatoes
Slow Cooker Finalist Recipe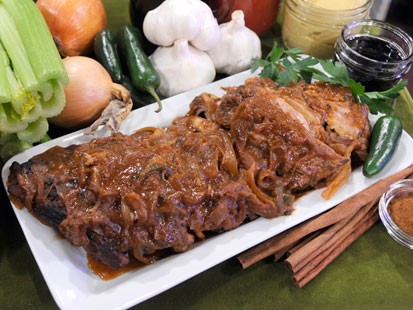 From the kitchen of Patricia Freeman
|
"GMA" put out the call and hundreds of viewers e-mailed us their super slow-cooker recipes.
After thousands of votes, Patricia Freeman's Slow Cooked Ribs Served With Mashed Potatoes was one of the five finalists in Emeril's Slow-Cooker Challenge.
Ingredients
Ribs
2 lbs pork ribs
2 tbs molasses
1 c catsup
1/8 tsp cinnamon
1 tbs Dijon mustard
1/4 tsp salt
1 tbs soy sauce
5 cloves garlic
1 large onion sliced
1 jalapeno, chopped
Mashed Potatoes
4 potatoes
2 cloves garlic
1/2 cup sour cream
3 tbs butter
1/4 cup milk
Cooking Directions
Simmer ribs in boiling water for 15 minutes to release some of the fat.
Put ribs in the Crock-Pot for 2 hours then add all the other ingredients.
Cook for 6 more hours on low heat or 4 hours on high heat.
Check after 4 hours to see how they are cooking. Length can vary.
If they look a little dry, add a little catsup mixed with a little water. They should fall off the bone. Delicious.
Boil four potatoes with two cloves garlic. Mash with 1/2 cup sour cream, 3 tbs butter, and 1/4 cup milk. Add more milk, if dry. Garnish with chives.
Other Recipes That You Might Like