Robin's Sweet Potato Pie
'GMA' Anchors Share Their Favorites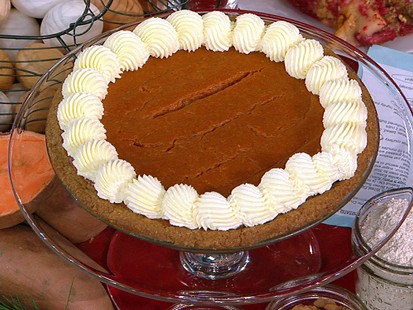 From the kitchen of Rachel Beller and Gail Dosik
|
They've done meatloaf and mac'n cheese. Now, Diane, Robin, Chris and Sam compete in the Anchor Holiday Pie Challenge to find out whose pie will take the cake.
Ingredients
Easy Omega-Rich Pie Crust (food processor preferred but not required)
1 1/2 c. Whole Wheat Flour
1/3 c. Light Brown Sugar
1/2 c. Walnut Oil, a rich source of Omega 3 Fatty Acids
1 tsp. Vanilla Extract
Filling
5 sweet potatoes, baked, cooled, scoop out flesh to equal 2 cups
2 Tablespoons butter, softened
3 large eggs
2 egg yolks
1/2 c. granulated sugar
1/2 c. dark brown sugar, tightly packed in measuring cup
1/2 tsp. grated nutmeg
1/2 tsp. cinnamon
1/4 tsp. salt
1 Tbsp. molasses
2 Tbsp. bourbon (optional)
1 tsp. vanilla extract
2/3 c. low-fat plain yogurt
Cooking Directions
Pie Crust
Preheat oven to 350º F.
Blend flour, sugar and vanilla extract. Then add walnut oil and mix until well blended.
Place and pat mixture into a 9-inch pie pan lightly greased with cooking spray.
Bake for 8-10 minutes in the preheated oven.
*Crust recipe courtesy of Rachel Beller
Filling
Adjust oven rack to middle of the oven, and preheat to 375º F.
Mash cooled sweet potatoes in one large bowl with a fork until nice and mushy.
In another bowl, whisk eggs, yolks, sugars, nutmeg, cinnamon & salt together until incorporated. Stir in molasses, bourbon (if using) and vanilla. Stir in yogurt until fully incorporated. Add this mixture to sweet potatoes and whisk to gently combine.
Pour sweet potato mixture into pie crust and bake for about 45 minutes 'till sides are set and middle is a tiny bit jiggly when pie is shaken. Remove from oven, let cool for a couple of hours.
Serve with ice cream (if you're bad), or a little whipped cream. Plain is good, too!
*Recipe courtesy of Gail Dosik
Other Recipes That You Might Like