Home
>
GMA
>
Recipes Home
>
GMA Anchor Food Flashback: Cuomo Family's Raspberry-Apple Cobbler Crisp
GMA Anchor Food Flashback: Cuomo Family's Raspberry-Apple Cobbler Crisp
Legendary Chef Emeril Lagasse Declares Chris Cuomo the Winner of the Holiday Pie Challenge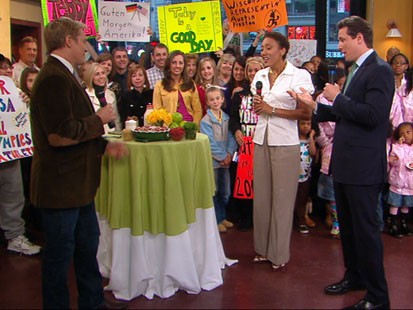 The "GMA" anchor revisits his famous Raspberry Apple Cobbler Crisp.
From the kitchen of Cristina Cuomo
|
They've done meatloaf and mac'n cheese, but in the Anchor Holiday Pie Challenge, Diane, Robin, Chris and Sam competed to find out whose pie takes the cake.
Chef Emeril Lagasse sampled each pie and declared Chris the winner. Make it your family's new favorite!
Ingredients
4 Granny Smith apples
2 to 3 pints raspberries
1 stick salted butter, melted
1 cup pecan halves
1 cup brown sugar
1 1/2 cups milk
1 1/2 cups self-rising flour
Cooking Directions
Skin and slice apples and wash raspberries (do not dry).
Mix together and pour into a 9-inch glass pie dish. In a bowl, mix flour, sugar and milk until all clumps are gone. Pour in half of the melted butter and stir. Pour mixture on top of fruit evenly.
Crush pecans and sprinkle all over top. Pour remaining butter over pecans.
Bake for 35-50 minutes at 375 degrees until top is light brown. Let cool 5-10 minutes. Serve with vanilla ice cream.
*Recipe courtesy of Cristina Cuomo
Other Recipes That You Might Like