Mario Batali's Pasta with Spare Rib Sauce
Mario Batali's Pici Col Sugo Di Costine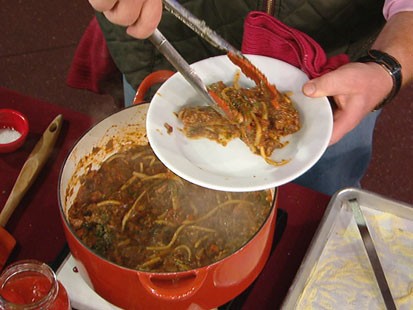 Learn how to make a tasty pasta with spare rib sauce.
From the kitchen of Mario Batali
Mario Batali divulges some of his favorite recipes for an Italian-inspired meal. From tasty tomato sauce to sweet and succulent blackberry pie, these recipes bring restaurant-quality cuisine right to your kitchen table.
Ingredients
1/4 cup extra-virgin olive oil
1 medium Spanish onion, chopped into 1/4 inch dice
1 carrot, finely chopped
4 ounces pancetta (thinly sliced), finely diced
1 bunch basil, leaves only, finely chopped
2 lbs pork spare ribs, cut into 1/2 inch pieces by butcher
Salt and freshly ground black pepper
1 cup dry white wine
2 1/2 cups basic tomato sauce
1 recipe fresh eggless pasta dough
Semolina or cornmeal, for dusting
Parmigiano Reggiano, for grating
Cooking Directions
In a 10 to 12 inch deep sauté pan, heat the olive oil over high heat until almost smoking. Add the onion, carrot, pancetta and basil, reduce the heat to medium high and cook until the pancetta has rendered its fat.
Season the ribs with salt and pepper and add it to the pan, cooking until they are browned on all sides.
Add the wine and simmer for 5 minutes. Add the tomato sauce and bring to a boil. Then lower the heat to a simmer and with salt and pepper. Cover and simmer gently until the meat is tender, about 1 hour.
Meanwhile, shape the pasta into grape sized balls. One at a time, on a surface very lightly dusted with flour, roll each one into a rope 1/8 inch thick and 6-8 inches long and set aside on a baking sheet dusted with semolina.
Bring 6 quarts of water to boil in a large pot and add 2 tablespoons salt.
Drop the pasta into the water and cook until tender, yet al dente, about 7-8 minutes.
Drain the pasta, toss into the pan with the sauce and stir gently over medium high heat for 1 minute.
Divide evenly among four warmed pasta bowls to serve. Top with freshly grated parmigiano and serve.
Recipe Summary
Main Ingredients: spare ribs, pancetta, bacon, basil
Course: Pasta, Dinner, Main Course