Emeril's Pan Roasted Fingerling Potatoes
A Perfect Side Dish for Easter Dinner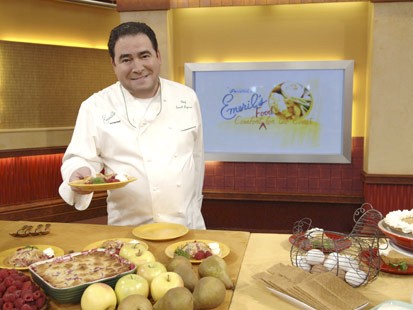 From the kitchen of Emeril Lagasse
|
Top Chef Emeril Lagasse cooks up some recipes that are a flavorful addition to any springtime menu, and perfect for an Easter dinner.
Here is his recipe for Pan Roasted Herbed Fingerling Potatoes, a great accompaniment to his Seared Petite Lamb Chops.
Ingredients
12 fingerling potatoes, scrubbed clean
Salt and freshly ground black pepper
2 tablespoons olive oil
1 teaspoon fresh sage, chopped
1 teaspoon fresh rosemary, chopped
1 teaspoon fresh thyme, chopped
Cooking Directions
Place the potatoes in a saucepan and cover with water.
Set over high heat and bring to a boil. Cook until potatoes are tender, 7 to 8 minutes. Remove from the heat and cool under cold running water.
Once cool enough to handle, place the potatoes on a cutting board and slice in half lengthwise. Season the potatoes with salt and pepper.
Heat a 12-inch sauté pan with the olive oil over medium-high heat. Place the potatoes, cut side down, in the pan and cook until browned and crispy, about 3 minutes. Turn potatoes to the other side and add the sage, rosemary and thyme. Cook for another 3 minutes, until crispy on the second side.
Toss the potatoes to evenly distribute the herbs and season with additional salt and pepper if necessary.
Serve hot.
Other Recipes That You Might Like