Emeril's Minty Green Peas
Emeril Lagasse's Thanksgiving Sides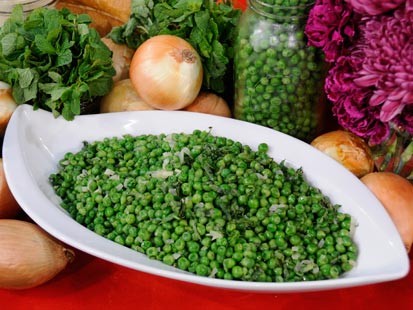 From the kitchen of Emeril Lagasse
Thanksgiving isn't just about the turkey; the side dishes can make or break a fabulous holiday meal. So, as part of his weeklong cook up to Turkey Day, Emeril Lagasse shows you how to get the most out of your side dishes.
Ingredients
2 tablespoons unsalted butter
1/4 cup yellow onions, minced
1 pound frozen green peas, not thawed
1/2 cup water
1/2 teaspoon salt
1 tablespoon fresh mint, finely chopped
Cooking Directions
Melt the butter in a 1-quart saucepan over medium-high heat.
Add the onions and cook, stirring, until soft, about 3 minutes. Add the peas and water and bring to a boil.
Reduce the heat to medium-low, cover the saucepan and simmer until tender, about 4 minutes.
Remove from the heat, add the salt and mint and stir. Use a slotted spoon to transfer the peas to serving plates. Serve hot.
Yield: 3 cups
Recipe courtesy Emeril Lagasse, courtesy Martha Stewart Omnimedia, Inc.
Recipe Summary
Main Ingredients: peas, mint, butter
Course: Side Dish, Vegetable
More Info: Vegetarian