Chocolate Chip Bourbon Pecan Pie
Best Slice Finalist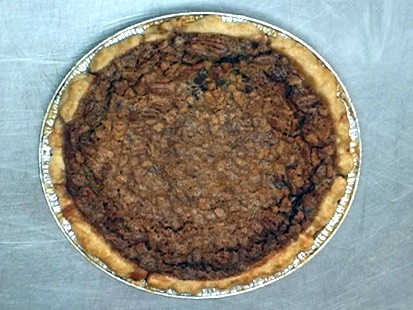 From the kitchen of Michele's Pies in Norwalk, Conn.
Michele's Pies, located in heart of Norwalk, Conn., serves over 40 different varieties of pies and other baked goods. The baker behind this Norwalk shop is Michele Albano, who learned the trade from her grandmother. Before opening her store in December 2007, Ms. Albano showcased her pies at Vermont farmers' markets, visiting up to four a week. Her ingredients are always fresh and seasonal. Michele's signature pie is the "Chocolate Pecan Bourbon."
Ingredients
1 piecrust (10 inches)
3 large eggs, room temperature
3/4 cup sugar
1 1/4 cups dark corn syrup
1/2 tablespoon pure vanilla extract
1 tablespoons bourbon
3 tablespoons unsalted butter, melted and kept warm
1 1/2 cup chopped pecans, chopped
3/4 cups semi-sweet chocolate chips
Pie Crust
2 cups flour
1 Tsp salt
1/2 cup Crisco
Cooking Directions
Preheat oven to 350.
Place the eggs, sugar, corn syrup, vanilla and Bourbon in a bowl and mix. Scrape the sides and bottom of the bowl at least two times while mixing. Add the warm butter. Mix well. Combine the pecans and chocolate chips and sprinkle them on the bottom of the pie shell. Pour the filling over the nuts and chips.
Place the pie on the baking sheet on the bottom shelf of the 350 degree oven and bake it for 30 minutes. The edges of the filling will rise, but the middle will still be a little bouncy. However, the pie will continue to bake after it is removed from the oven. To set up and have it firm enough to slice, give the pie 2 to 3 hours of cooling at room temperature, or a half hour of cooling at room temperature and an hour in the refrigerator.
Pie Crust
Mix flour and salt together. Then add the Crisco. Mix gently until crumbly. Add 1 Tbs. of icewater at a time. Mix after each addition. Mix until forms a ball. Chill dough 1/2 hour before rolling.
Recipe Summary
Main Ingredients: chocolate, pecans, bourbon, eggs
Course: Dessert