Rachael Ray's Paella in Quince
A Filling Meal in Just Fifteen Minutes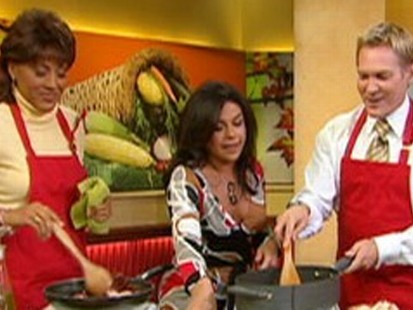 "Just in Time" author makes paella, southern-style shepherd's pie and more.
From the kitchen of Rachael Ray
|
It doesn't take years of training or a ton of time to make a delicious meal. In Rachael Ray's new book, "Just In Time," she offers dozens of new recipes you can make in less than 30 minutes.
Rachael Ray's new book, "Just in Time," targets the 15-minute meal. If that's still too much time, there are also 15-minute meals, and for those who have extra time, 60-minute meals.
Here, Ray shares her recipe for Paella in a Quince, which she said is in thanks to her friend John McCally, who suggested she make a paella with couscous rather than rice.
Ingredients
1/4 cup extra-virgin olive oil, 4 times around the pan
1/2 pound precooked chorizo, casings removed, cut into bite-size dice
3/4 pound chicken breast cutlets or tenderloins, cut into bite-size dice
1 medium onion, chopped
4 garlic cloves, finely chopped or grated
1/2 teaspoon red pepper flakes
1 fresh bay leaf (or dried)
4 to 5 fresh thyme sprigs
1 pound medium shrimp, peeled and de-veined
Salt and black pepper
2 1/2 cups chicken stock
1 teaspoon turmeric
1 envelope saffron powder (or a pinch of threads)
2 cups couscous
1 cup frozen green peas
1 lemon, zested and cut into wedges
2 piquillo peppers (or 1 roasted red pepper), chopped
A generous handful fresh flat-leaf parsley, chopped
Hot sauce, to pass at the table
Cooking Directions
Heat the extra-virgin olive oil in a deep skillet over medium-high to high heat.
Add the chorizo, and render some of its fat, 1 to 2 minutes, then add the chicken and brown, 2 to 3 minutes.
Add the onions, garlic, red pepper flakes, bay leaf, thyme and shrimp; season with salt and pepper; and cook for 3 to 4 minutes more.
Add the stock, turmeric and saffron, bring to a boil, and stir in the couscous, peas, lemon zest and piquillo peppers. Cover and turn off the heat. Let stand for 5 minutes, then fluff with a fork.
Remove the bay leaf and thyme stems. Top each serving of paella with some chopped parsley, hot sauce and juice from the lemon wedges.
Other Recipes That You Might Like