Emeril's Summer Taco Bar
South of the Border Summer Recipes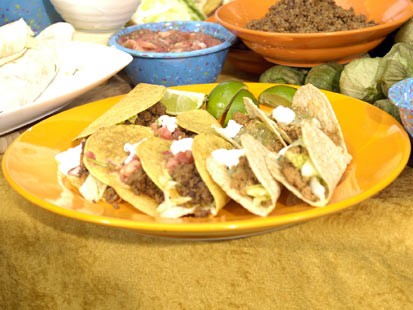 From the kitchen of Emeril Lagasse
When the heat makes you and your friends feel like you are south of the border, you might as well act and eat like you are, and no summer fiesta is complete without tacos. "Good Morning America" and Emeril Lagasse have teamed up to help you satisfy all of your amigos — with a full-out taco bar.
Ingredients
Tacos
2 recipes South of the Border Meat Marinade for Grilling, recipe follows
4 boneless skinless chicken breast halves
1 pork tenderloin, trimmed and silver skin removed
1 flank steak
3 large packages soft flour or soft corn tortillas, warmed according to package directions
Aluminum foil, as needed for wrapping tacos
Optional Accompaniments for Tacos
tomatoes, chopped
red onion, minced
jalapenos, minced
sour cream,
lettuce, julienned
cheddar and/or Monterey jack cheese, shredded
Simply Salsa (or your favorite red salsa), for serving
Tomatillo Salsa (or your favorite green salsa) for serving
Lime wedges, for serving
South of the Border Meat Marinade for Grilling
1 cup cilantro leaves
3/4 cup lime juice
1/2 cup garlic, sliced
2 serrano chiles, stemmed and seeded
1 jalapeno, stemmed, seeded and roughly chopped
1 teaspoon Kosher salt
1 teaspoon dried Mexican oregano
1/4 teaspoon ground cumin
1/2 cup extra virgin olive oil
Cooking Directions
Place chicken breasts, pork tenderloin, and flank steak each in 3 separate large nonreactive shallow platters. Add 1 cup of the marinade to the chicken, 1 cup to the pork, and 2 cups to the flank steak. Turn to coat and refrigerate all three platters for up to 2 hours, turning occasionally. Let return to room temperature for 30 to 45 minutes before grilling. While meat is marinating, assemble accompaniments as desired.
Preheat a grill to medium high heat. Place the pork tenderloin on the grill and cook for 10 minutes, turning occasionally. Add the chicken breasts and flank steak to the grill and continue cooking, turning occasionally, until pork reaches an internal temperature of 145 degrees F (usually 20 to 25 minutes total), chicken reaches an internal temperature of 165 degrees F (usually 8 to 10 minutes total), and beef reaches desired degree of doneness, 145-150 degrees F for medium rare (usually 8 to 10 minutes total.)
Remove meats from the grill and set aside to cool for 5 minutes before slicing thinly across the grain. Transfer sliced meats to a large platter for serving and allow guests to assemble their own tacos according to their taste. Wrap the tortillas in foil and return briefly to the grill to heat through if desired. Serve with salsa and lime wedges.
South of the Border Meat Marinade for Grilling
Combine all ingredients except the olive oil in a blender and process until smooth, 10 to 15 seconds. While the blender is still running, add the oil in a steady stream until completely incorporated.
Yield: 2 cups marinade
Recipes courtesy Emeril Lagasse, Emeril's Food of Love Productions, 2008
Recipe Summary
Main Ingredients: chicken, pork, steak, tortillas, salsa
Course: Dinner, Lunch, Main Course