Gordon Ramsay's Caramelized Banana Split
Fiery Chef Whips Up Good Food, Fast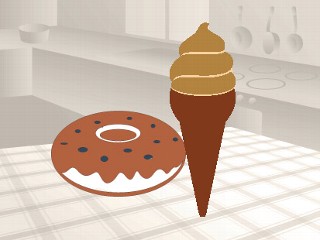 From the kitchen of Gordon Ramsay
|
Chef Gordon Ramsay is known for his fiery temper as much as his passionate cooking. Now the British cook has come up with a book geared toward people who want good food fast. His best-selling, family-friendly book, "Gordon Ramsay's Fast Food," has a plethora of recipes, including snacks and main courses that literally take only minutes to prepare.
And you don't have to be a whiz in the kitchen to use the cookbook. There are 100 recipes that almost anyone can make.
Gordon advises: "Make sure you use a good-quality ice cream here. For extra child appeal, provide bowls with little extras, such as chocolate sprinkles and chocolate chips, so the kids can help themselves."
Ingredients
4 ripe bananas
1/2 cup superfine sugar
2 to 3 scoops each of different ice creams (e.g. vanilla, chocolate, strawberry)
2/3 cup whipping cream, lightly whipped
shredded sweetened coconut, to sprinkle (optional)
4 candied cherries (or pitted fresh)
Chocolate Sauce
4 ounces semisweet chocolate, broken into pieces
2 Tbsp. runny honey
1/3 cup whipping cream
Cooking Directions
Peel the bananas and cut in half lengthwise. Place cut side up on a sturdy baking sheet and sprinkle evenly with the sugar. If you have a cook's blowtorch, wave it over the bananas until the sugar has caramelized. (Otherwise, preheat the broiler to its highest setting and flash the bananas under the broiler until golden brown and bubbling.) Let cool until the sugar has firmed up.
Make the chocolate sauce in the meantime. Put all the ingredients in a bowl set over a pan of simmering water and stir occasionally until the chocolate has melted and the sauce is smooth. Take the bowl off the pan and let cool.
Arrange two banana halves on clear serving dishes (ideally oval or oblong), with the caramelized sides facing outward. Place a scoop of each flavored ice cream between the banana halves. Drizzle with chocolate sauce, then spoon or pipe over the whipped cream. Sprinkle with the coconut if using and top each banana split with a cherry. Serve immediately.
*Recipe courtesy of Gordon Ramsay; Gordon Ramsay's Fast Food: Key Porter Books, 2008.
Other Recipes That You Might Like