Emeril's Butternut Squash And Apple Soup
Emeril Lagasse's Special Fall Recipe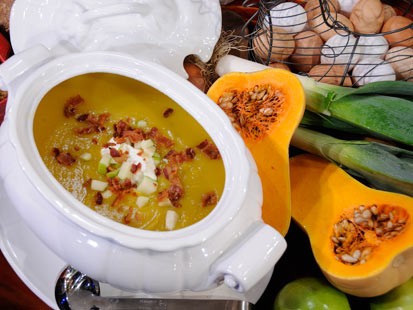 From the kitchen of Emeril Lagasse
Emeril's special Thanksgiving recipes come just in time for the holidays.
Ingredients
4 slices bacon
1/2 cup onions, finely chopped
1 large leek (about 1 cup), white and pale green parts only, *you can use white onion if leeks are not available
1 large garlic clove, minced
1/2 bay leaf
Salt and freshly ground black pepper
1 1/4 pounds butternut squash, seeded, peeled and cut into 1-inch pieces (about 3 cups)
1 medium-size Granny Smith (or other tart apple), peeled and chopped
2 cups chicken stock or canned, low sodium chicken broth
1/2 cup water, plus additional for thinning soup as needed
2 tablespoons sour cream (or creme fraiche), plus more for garnishing, optional
Apples, unpeeled and chopped,for garnishing, optional
Cooking Directions
Cook the bacon in a skillet until crisp. Drain, reserving 1 1/2 tablespoons of the rendered bacon grease. Set the bacon aside and, when cool, crumble the bacon and reserve to garnish the soup. In a heavy saucepan heat the reserved grease over medium heat, add the onion, leek, garlic and bay leaf and season lightly with salt and pepper to taste. Cook, stirring, until softened. Add the squash, apple, broth and 1/2 cup water. Simmer the mixture, covered, until the squash is very tender, 20 to 25 minutes. Discard the bay leaf.
In a blender, puree the mixture in batches, transferring as it is pureed to a clean saucepan. Add enough additional water to thin soup to the desired consistency, if necessary. Whisk in the sour cream or creme fraiche and season with salt and pepper to taste. Heat soup over medium-low heat until hot (do not allow the soup to boil). Serve the soup garnished with the crumbled bacon and a dollop of sour cream and finely chopped apple, if desired.
Makes about 4 1/2 cups.
Recipe courtesy Emeril Lagasse, courtesy Martha Stewart Omnimedia, Inc
Recipe Summary
Main Ingredients: bacon, leek, garlic, squash, apples
Course: Side Dish, Appetizer/Starter, Lunch, Soup