Ina Garten's Baked Sweet Potato 'Fries'
The Barefoot Contessa Puts a Spin on Veggies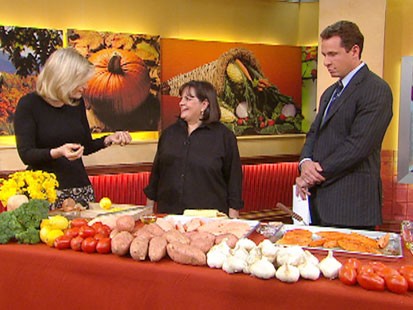 The chef discusses her new book, "Barefoot Contessa: Back to Basics."
From the kitchen of Ina Garten
Vegetables — something most people know they should eat but just have a hard time trying to swallow. Well, Ina Garten has found a way to keep the healthy factor of veggies without sacrificing the taste.
Sweet potatoes are available year-round, but their prime season is really autumn and winter. Choose potatoes that are smooth and unblemished, and use them fairly soon because they don't keep as well as other potatoes. These potatoes are crispy like fries but they're better for you because they're baked.
Ingredients
2 medium sweet potatoes, peeled
2 tablespoons good olive oil
1 tablespoon light brown sugar
1/2 teaspoon kosher salt, plus extra for sprinkling
1/2 teaspoon freshly ground black pepper
Cooking Directions
Preheat the oven to 450 degrees.
Halve the sweet potatoes lengthwise and cut each half into 3 long spears. Place them on a sheet pan and toss with the olive oil. Spread the potatoes in one layer. Combine the brown sugar, salt, and pepper and sprinkle on the potatoes.
Bake for 15 minutes and then turn with a spatula. Bake for another 5 to 10 minutes, until lightly browned. Sprinkle lightly with salt and serve hot.
Courtesy of "Barefoot Contessa: Back to Basics"
Recipe Summary
Main Ingredients: sweet potatoes, brown sugar
Course: Side Dish, Vegetable, Starch
More Info: Vegetarian