Mario Batali's $15 Dinner Dare: Paella Diana
Get the Recipe: With $15 Worth of Groceries Chef Mario Batali Creates Brand-New Recipe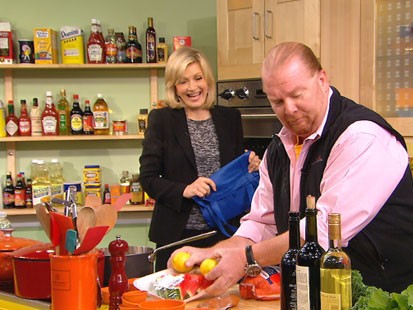 Diane Sawyer puts the chef to the ultimate cooking test.
From the kitchen of Mario Batali
As part of "GMA's" $15 Dinner Dare series, each day an anchor will unveil a list of secret ingredients. Then a chef will have to prepare a tempting meal live on-air with the newly unveiled ingredients in just minutes.
Mario Batali is the first chef to take on the challenge. Diane Sawyer gave him his list of surprise ingredient live on-air today.
He served his paella with his Senorita Robin's Greens and Frijoles Sam Champion.
Ingredients
2 quarts chicken stock
4 chipotle peppers in adobo
1 tbsp red chili flake
1 tbsp chili powder
4 tbsps extra virgin olive oil
1 two-pound chicken, cut into 8 pieces
1 med yellow onion, diced
2 tbsps fresh ginger, julienned
2 tbsps paprika
2 tbsps red curry powder
8 whole cloves garlic, peeled
1 red bell pepper, cut into 1-inch pieces
1/2 lb kielbasa sausage, sliced into 1-inch pieces
2 cups five-minute white rice
Cooking Directions
In a 4-6 quart saucepan, combine stock, chipotles, chili flake, and chili powder and bring to a boil. Lower the heat to a simmer, and let rest.
In a large 12-14-inch sauté pan, heat olive oil 'till smoking. Season chicken pieces generously with salt & pepper and brown carefully and slowly 'till deep dark golden brown, working in batches. When chicken is done, remove to a plate.
In the same pan, add onion, paprika, red curry powder, garlic cloves, red bell pepper, ginger and sauté 'till soft golden brown, about 8 min. Add prepared chicken stock to the onion/pepper mixture and bring to a boil. Lower heat, and allow to simmer 10 minutes.
Place browned chicken pieces in the broth and cook for 15 minutes longer. Add 2 cups rice and sausage. Bring to a boil for 5 minutes, turn off heat and let sit for 5 additional minutes uncovered. Serve.
*Recipe courtesy of Mario Batali
Recipe Summary
Main Ingredients: chicken, lemon, sausage, kale, collard greens, water melon, juice, black beans, ginger, grape juice
Course: Brunch, Dinner, Lunch