Emeril's Apple Raisin Bread Pudding With Corn Flake Crisp
Get the Recipe: With $15 Worth of Groceries Chef Emeril Lagasse Creates Brand-New Recipe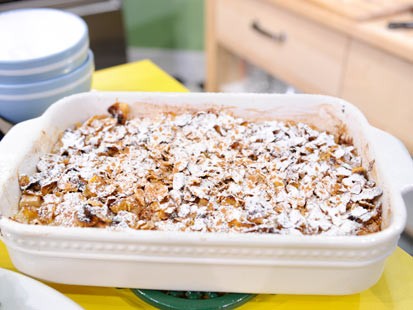 From the kitchen of Emeril Lagasse
As part of "GMA's" $15 Dinner Dare series, each day an anchor will unveil a list of secret ingredients. Then a chef will have to prepare a tempting meal live on the air with the newly unveiled ingredients.
Emeril Lagasse is the second chef to take on the challenge. Sam Champion gave him his list of surprise ingredients live on the air today.
Ingredients
6 eggs
1 cup milk
1/2 cup honey
1 tablespoon vanilla extract
1/2 cup raisins
10 slices of white bread, cubed with crusts removed
2 tablespoon cinnamon
1/4 teaspoon nutmeg
2 tablespoons sugar
5 medium apples, cored and cut into a medium dice (Empire or Golden Delicious, if possible)
Softened butter, for preparing pan
Crisp Topping:
6 tablespoons butter, divided
2 cups corn flakes
1/4 cup light brown sugar
1/4 teaspoon cinnamon
Powdered sugar and cinnamon for sprinkling
Creme Fraiche:
8 oz. creme fraiche
1 tablespoon honey
1 tablespoon vanilla
Cooking Directions
Preheat oven to 500 degrees.
Butter a 13 x 9-inch glass baking dish liberally with 2 tbsp of softened butter.
In a large mixing bowl, whisk together eggs, milk, honey, cinnamon, nutmeg and vanilla until thoroughly combined. Fold in raisins and bread.
Place apples in the bottom of the buttered dish and sprinkle cinnamon, nutmeg and 2 tablespoons of sugar evenly over them. Bake for about 10 minutes, until apples are slightly softened.
Remove dish and lower oven temperature to 400 degrees.
Pour egg mixture over the apples and place back in the oven for 20 minutes.
While pudding bakes, make the topping. In a large bowl combine 4 tablespoons of softened butter with 1/4 cup light brown sugar. Gently fold in corn flakes and place topping evenly over pudding. Bake for 10 minutes, remove dish from oven and turn up the oven to Broil.
Dot top of pudding with remaining butter and sprinkle with cinnamon. Put under broiler until top is lightly golden and pudding is set, 2 to 5 minutes.
Let cool for 10 minutes and sprinkle with powdered sugar and some additional cinnamon.
In a small bowl combine creme fraiche, honey and vanilla. Top each serving with a dollop, if desired.
*Recipe courtesy of Emeril Lagasse
Recipe Summary
Main Ingredients: apples, raisins, eggs, white bread, vanilla extract, honey
Course: Dessert, Brunch