Cat Cora's Mafe Cuomo: African Vegetable and Shrimp Stew
Get the Recipe: With $15 Worth of Groceries Chef Cat Cora Creates Brand-New Recipe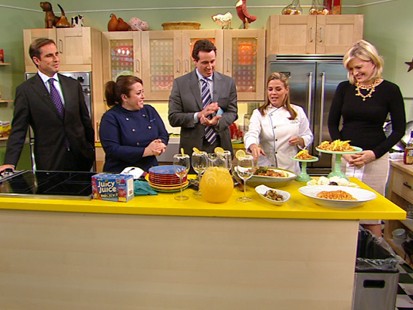 The chef prepares delicious dishes with only $15 worth of groceries.
From the kitchen of Cat Cora
|
As part of "GMA's" $15 Dinner Dare series, each day an anchor will unveil a list of secret ingredients. Then a chef will have to prepare a tempting meal live on the air with the newly unveiled ingredients.
Cat Cora is the third chef to take on the challenge. Chris Cuomo gave her a list of surprise ingredients live on the air today.
Ingredients
4 tbsps. olive oil, divided
1/2 cup finely chopped onion
4 cloves garlic, finely chopped
5 carrots, diced
4 ribs celery, diced
2 tsps. dried thyme
1 tsp. coriander
1 tsp. cumin
1 tsp. ground ginger
1/2 tsp. red chili flake
12 oz. bag of a fresh vegetable medley (pre-cut cauliflower, broccoli, and carrots)
2 c. chicken stock, plus 1/2 c. chicken stock
1/2 c. peanut butter
1 lb. shrimp, peeled and deveined, shells reserved
Salt and pepper
Cooking Directions
Heat 3 tablespoons of olive oil in a large stockpot over high heat. Add onion, garlic, carrots and celery, and saute until softened, about 3 to 5 minutes. Add thyme, coriander, cumin, ginger and chili flake along with the vegetable medley and cook for three minutes. Add 2 cups of chicken stock and simmer just until vegetables are tender, about 7 minutes.
In a medium saucepan over high heat, combine 1 1/2 cups water and the reserved shrimp shells. Bring to a boil, lower heat to a simmer, and cook for 5 minutes. Strain liquid into stew.
In a medium saute pan, heat 1 tablespoon of olive oil over high heat until smoking. Add shrimp and saute for 3 minutes. Shrimp should not be fully cooked. Add shrimp to stew to continue cooking.
In a small bowl, mix together peanut butter and the 1/4 cup of chicken stock with a wire whisk until incorporated. Stir in to stew.
Bring stew to a boil and simmer until shrimp are cooked through, about 2 minutes.
Serve immediately.
*Recipe courtesy of Cat Cora
Other Recipes That You Might Like