Cat Cora's Crostini
Get the Recipe: With $15 Worth of Groceries Chef Cat Cora Creates Brand-New Recipe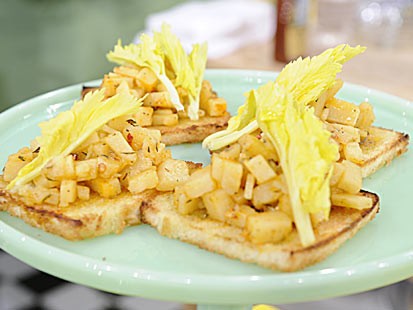 From the kitchen of Cat Cora
|
As part of "GMA's" $15 Dinner Dare series, each day an anchor will unveil a list of secret ingredients. Then a chef will have to prepare a tempting meal live on the air with the newly unveiled ingredients.
Cat Cora is the third chef to take on the challenge. Chris Cuomo gave her a list of surprise ingredients live on the air today.
Ingredients
4 slices white bread, crusts removed
2 tbsp. olive oil, plus more for brushing
1 c. diced Parmesan cheese
1/2 tsp. thyme
1/2 tsp. red chili flake
1/2 tsp. paprika
Celery leaves for garnish
Cooking Directions
Lightly brush both sides of bread slices with olive oil and toast under broiler in oven until golden brown, flipping halfway through.
In a medium bowl combine diced Parmesan cheese, thyme, red chili flake and paprika. Add olive oil and toss. Top toasted bread slices with 1/4 cup of cheese mixture each. Serve.
*Recipe courtesy of Cat Cora
Other Recipes That You Might Like