Sandra Lee's Wisconsin Beef & Cheddar Brats With Beer-Braised Onions
Excerpt From 'Semi-Homemade Grilling 2'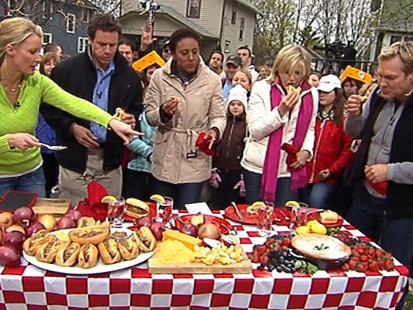 Sandra Lee makes a few dishes for the neighborhood.
From the kitchen of Sandra Lee
Ingredients
Oil
Cast-iron skillet
4 tablespoons butter
2 red onions, thinly sliced
1 yellow onion, thinly sliced
1 bottle beer (12-ounce Miller Genuine Draft)
8 cheddar bratwurst links (Johnsonville)
4 sourdough sandwich rolls, toasted
1 cup sharp cheddar cheese (Sargento)
stone-ground mustard
Cooking Directions
Set up grill for direct cooking over high heat. Oil grate when ready to start cooking.
Place cast-iron skillet on grill and add butter. When butter has melted, add onions. Cook about 10 minutes or until onions are softened. Add beer and cover; cook an additional 10 minutes. Remove cover from skillet and let onion mixture simmer.
If using a gas grill, turn heat down to medium (if using charcoal, it will probably be about medium at this point).
Place cheddar bratwurst links on hot, oiled grill and cook 16 to 20 minutes, turning every few minutes. Remove from grill.
To serve, place two hot cheddar bratwurst links on each toasted roll. Smother cheddar bratwurst links with onions and top with cheddar cheese and mustard.
Indoor Method:
In a large skillet, melt butter over medium heat. Add sausages and brown 10 minutes, turning them occasionally as they brown. Remove the sausages and set aside.
Add the onions and cook for 10 minutes, stirring frequently until softened. Pour beer over onions and scrape up any brown bits in the bottom of the skillet.
Return the sausages to the skillet and cook over medium heat about 15 minutes or until beer has almost evaporated. Serve as directed.
*Recipe excerpted from Sandra Lee Semi-Homemade Grilling by Sandra Lee
Copyright © 2006 SLSH Enterprises, Inc., www.semihomemade.com and Sandra Lee Semi-Homemade magazine.
Recipe Summary
Main Ingredients: cheddar bratwurst links
Course: Dinner, Lunch, Main Course, Party Platter, Side Dish, Snack