Emeril's Easy 5 Ingredient Grilled Chicken
From 'Emeril at the Grill'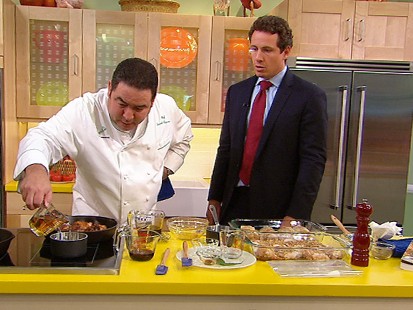 The chef prepares a healthy, grilled chicken dish and summery citrus punch.
From the kitchen of Emeril Lagasse
|
Ingredients
1 1/4 cups cider vinegar, plus 1 tablespoon
1/2 cup soy sauce, plus 1 tablespoon
1/4 cup minced garlic
2 bay leaves
8 bone-in, skin-on chicken thighs
1/4 cup honey
Olive oil, for brushing
1 teaspoon salt
1/2 teaspoon black pepper, freshly ground
Cooking Directions
Combine 1/4 cup of the vinegar, 3 tablespoons of the soy sauce, garlic and bay leaves in a resealable plastic bag. Add the chicken thighs and turn to coat them evenly. Seal the bag and marinate the chicken for at least 4 hours in the refrigerator.
Preheat a grill to medium.
Combine 1 cup of the remaining vinegar, the remaining 1/4 cup plus 2 tablespoons soy sauce, and the honey in a 1-quart saucepan. Bring to a boil and immediately turn down to a simmer. Continue to cook until the mixture thickens enough to coat the back of a spoon and is reduced by half, 11 to 13 minutes. Stir in the remaining 1 tablespoon vinegar. Remove from the heat and set aside to cool.
Remove the chicken from the bag (discard the marinade), and pat it dry with paper towels. Brush the chicken with olive oil and season it with the salt and pepper. Place the chicken on the grill and cook, turning frequently, until it is just cooked through and a thermometer inserted into the thickest part of the thigh (without touching the bone) registers 165°F, 20 to 25 minutes. Transfer the chicken to a platter, drizzle the vinegar-soy sauce over it and serve.
Recipe courtesy Emeril Lagasse, adapted from "Emeril at the Grill," HarperStudio Publishers, New York, 2009, courtesy Martha Stewart Living Omnimedia, Inc.
Other Recipes That You Might Like