Summery Citrus, Ginger, and Raspberry Punch
From 'Emeril at the Grill'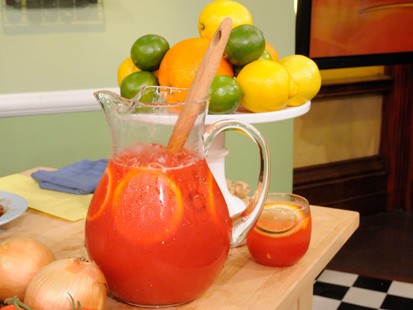 From the kitchen of Emeril Lagasse
|
Ingredients
1 1/2 cups sugar
3/4 cup water
1/2 cup fresh ginger, thinly sliced
1 pint fresh raspberries
2 cups orange juice, freshly squeezed
1/2 cup lemon juice, freshly squeezed
1/2 cup lime juice, freshly squeezed
4 cups seltzer water, chilled
Ice cubes, for serving
Cooking Directions
Combine the sugar, water, and ginger in a 1-quart saucepan. Set the pan over medium heat and cook, stirring occasionally, until the sugar has dissolved, about 15 minutes. Allow the syrup to cool completely. Then strain it through a fine-mesh sieve into a container (discard the solids). Refrigerate the syrup until ready to use.
Place the raspberries in a food processor and process until pureed. Strain the raspberry puree through a fine-mesh strainer into a bowl, and set aside until ready to use. (Discard the seeds.)
In a 3-quart pitcher or a punch bowl, combine all the remaining ingredients with the raspberry puree and the syrup. Stir to combine, and serve over ice in small glasses or punch cups.
Recipe courtesy Emeril Lagasse, adapted from "Emeril at the Grill," HarperStudio Publishers, New York, 2009, courtesy Martha Stewart Living Omnimedia, Inc.
Other Recipes That You Might Like