Kathy Freston's Tempeh Tuna Salad
From the book "Quantum Wellness Cleanse"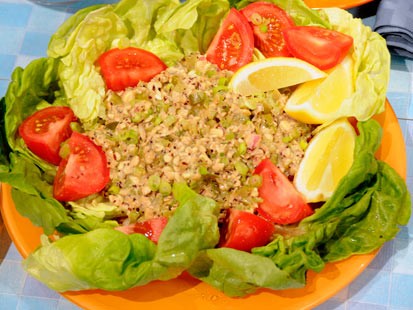 From the kitchen of Kathy Freston
Talk show host extraordinaire Oprah Winfrey has made no secret of her latest round in her ongoing battle of the bulge and after trying Kathy Freston's 21-day Wellness Cleanse the television staple sang its praises and even blogged about it.
In Freston's new book, "Quantum Wellness Cleanse," the bestselling author offers readers a away to lose weight and improve overall health by eliminating what she calls "the big five."
Freston claims ditching caffeine, gluten, sugar, alcohol and animal products for just 21 days will change your life by changing your tastes, curbing cravings and giving you more energy.
She believes her diet isn't about depriving yourself, but rather, replacing those foods with healthier choices.
Check out her recipe below.
Ingredients
4 slices fresh ginger (slice a whole root thinly across the width; no need to peel)
2 1/4 cups vegetable broth
1 tsp. sea salt
1/2 orange, unpeeled
1 package tempeh, (8oz.)
Juice of 1 lemon
3 Tbsp. tamari
1 clove garlic, minced
1/2 cup finely minced red onion
1 Tbsp. dry seaweed flakes
3 ribs celery, finely chopped
3/4 cup kosher pickles, chopped
1/4 cup vegan mayonnaise, try Vegenaise brand
Cooking Directions
Place the ginger, vegetable broth, and sea salt in a sauce pan.
Squeeze the juice from the orange half into the pot and then add the spent half to the pot.
Place the entire uncut tempeh block into the pot, bring to a simmer, and cook on low heat for 45 minutes to 1 hour, or until the tempeh block is softened but not falling apart.
Allow the tempeh to cool in the liquid.
Remove the tempeh from the liquid and grate on the large side of a box grater to create a coarse tempeh mixture.
In a separate bowl, combine all the remaining ingredients and mix well.
Add to the tempeh and stir well to combine.
Optional: Serve over mixed greens and garnish with thinly liced scallions.
Recipe Summary
Main Ingredients: pickles, tuna, tempeh,
Course: Main Course
More Info: Wheat/Gluten Free