Home
>
GMA
>
Recipes Home
>
Emeril's Crispy Jumbo Lump Crabmeat Cake with Corn Maque Choux and Tomato Jam
Emeril's Crispy Jumbo Lump Crabmeat Cake with Corn Maque Choux and Tomato Jam
Recipe courtesy Emeril Lagasse, courtesy MSLO, Inc.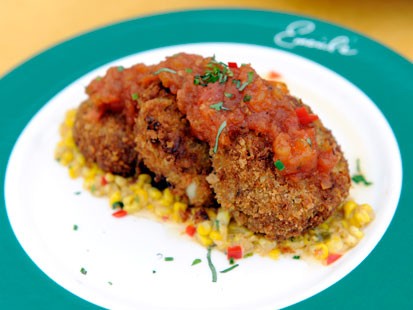 From the kitchen of Emeril Lagasse
|
In June 2008, Emeril Lagasse called upon Steve D'Angelo to lead the kitchen at Emeril's Gulf Coast Fish House as chef de cuisine.
D'Angelo holds a deep appreciation for the bounty of the gulf waters, sourcing local oysters, fish and shrimp straight from the docks, along with fresh exotic catch flown to the restaurant daily, and locally grown produce and farm products.
Ingredients
1 pound jumbo lump crabmeat
1 tablespoon unsalted butter
2 tablespoons finely chopped red pepper
2 tablespoons finely chopped yellow onion
2 tablespoons finely chopped celery
1 teaspoon Emeril's Original Essence, or to taste
1/4 cup mayonnaise, preferably homemade
1 teaspoon fresh lemon juice
1 1/2 teaspoons chopped flat leaf parsley
1 3/4 cups Panko (Japanese bread crumbs)
Salt, to taste
1/2 cup vegetable oil, or more as needed for frying crabcakes
1 recipe Sweet Corn Maque Choux
1 recipe Tomato Jam
Cooking Directions
Carefully pick through the crabmeat, discarding any shells or cartilage. (Try to retain as many lumps as possible.) Transfer to a mixing bowl and refrigerate while you prepare the remaining ingredients.
In a medium skillet melt the butter and cook the red bell pepper, onion, and celery until softened and translucent, about 4 minutes. Season with 1/2 teaspoon of Essence and set aside to cool.
When the vegetables have cooled, add them to the crabmeat, along with the remaining Essence, mayonnaise, lemon juice, parsley, and 1/4 cup of the Panko. Mix gently but thoroughly to combine. Add salt to taste. Divide the crabcake mixture into 8 equal portions and, using your hands, form into cakes about 2 1/2- to 3-inches in diameter. Dredge the crabcakes in the remaining Panko until cakes are completely coated on all sides.
In a medium skillet heat half of the vegetable oil over medium heat until hot but not smoking and add as many crabcakes as will fit comfortably, usually 3 to 4. Cook until golden brown on both sides and warmed through, 2 to 3 minutes per side. Transfer to paper towels to drain briefly while you add the remaining oil and cook the remaining crabcakes. Gently transfer to serving plates and serve with the Sweet Corn Maque Choux and a dollop of the Tomato Jam.
*Recipe courtesy Emeril Lagasse, courtesy MSLO, Inc.
Note: Panko is available in most gourmet shops and/or Asian markets.
Other Recipes That You Might Like