Taste of Home's Asian-Style Baby Back Ribs
Courtesy of Esther J. Danielson of San Marcos, Calif.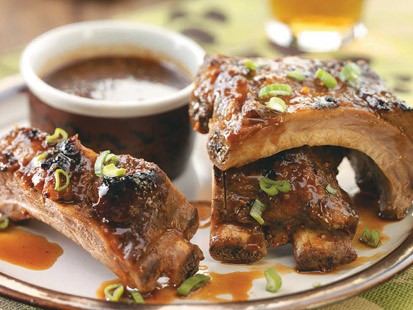 From the kitchen of Taste of Home
The combination of tender grilled pork and an irresistible sauce will have you licking your fingers. Be ready to add this dish to your list of summer favorites!
Ingredients
1 1/2 pounds pork baby back ribs
4 1/2 teaspoons molasses
1 tablespoon garlic salt
1 teaspoon onion powder
1 teaspoon Worcestershire sauce
Glaze:
1/2 cup reduced-sodium soy sauce
3 tablespoons thawed pineapple juice concentrate
2 tablespoons rice vinegar
2 tablespoons hoisin sauce
2 tablespoons ketchup
1 teaspoon lemon juice
1 teaspoon whole grain mustard
1 teaspoon Worcestershire sauce
1 teaspoon fresh gingerroot, minced
1/2 teaspoon garlic, minced
Chopped green onion
Cooking Directions
Pat ribs dry. Combine the molasses, garlic salt, onion powder and Worcestershire sauce; brush over meat. Place ribs on a rack in a small shallow roasting pan. Cover and bake at 300° for 1 hour or until tender.
In a small saucepan, combine the soy sauce, pineapple juice concentrate, vinegar, hoisin sauce, ketchup, lemon juice, mustard, Worcestershire sauce, ginger and garlic. Bring to a boil. Reduce heat; simmer, uncovered, for 10 minutes or until slightly thickened, stirring occasionally.
Coat grill rack with cooking spray before starting the grill. Brush ribs with some of the glaze; grill over medium heat for 8-12 minutes or until browned, turning frequently and brushing with additional glaze. Serve remaining glaze on the side. Garnish with onion.
Recipe Summary
Main Ingredients: molasses, gingerroot, pork baby back ribs, hoisin
Course: Dinner, Main Course, Side Dish