Buddy's Beach Cupcakes
From 'the Cake Boss'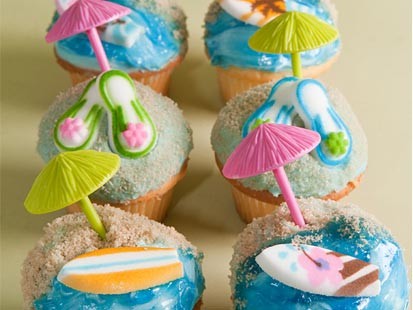 From the kitchen of Buddy Valastro aka "The Cake Boss"
|
Buddy Valastro is an accomplished master baker and cake decorator who is often asked to demonstrate, compete, and teach his craft around the country. In his 10,000-square-foot state-of-the-art facility, he and his staff turn out thousands of wedding cakes, specialty cakes and pastries weekly.
His Carlo's City Hall Bake Shop in Hoboken, N.J., has been featured in books, newspapers, such as The New York Times, and on television most namely The Food Network.
By uniting time-honored quality with modern innovative techniques, Carlo's Bakery is rated among the best. Its distinct old world taste is hard to come by. This is what sets Valastro apart from other sugar artists.
Valastro and Carlo's will be the focus of "Cake Boss," a new docu-series premiering on TLC today.
Ingredients
2 cups all purpose flour
1 1/2 cups sugar
3 teaspoons baking powder
1/2 teaspoon salt
4 egg whites from large eggs
1/2 cup shortening
1 cup whole milk
2 large eggs (add egg whites for a white cake; yolks, for a yellow cake)
1 1/2 teaspoon vanilla
Buttercream:
1/2 cup solid vegetable shortening
1/2 cup butter or margarine (1 stick) softened
1 teaspoon clear vanilla extract
4 cups confectioners' sugar, sifted (approximately 1 lb.)
2 tablespoons milk
Makes: About 3 cups of icing.
Cooking Directions
Preheat oven to 350 degrees. Line cupcake pans with paper liners. Combine flour, sugar, baking powder, salt, shortening, milk and vanilla in a large mixing bowl. Mix at low speed for 2 minutes. Scrape bowl. Add egg whites and mix at high speed until fluffy and smooth, approximately 2 minutes. Fill liners 1/2 to 2/3 full of batter. Do not overfill. Bake 20 to 25 minutes or until toothpick inserted in center comes out clean. Cool 10 minutes in pans then remove from pan, and place on wire racks to cool completely.
Buttercream:
(Medium Consistency)
In large bowl, cream shortening and butter with electric mixer. Add vanilla. Gradually add sugar, one cup at a time, beating well on medium speed. Scrape sides and bottom of bowl often. When all sugar has been mixed in, icing will appear dry. Add milk and beat at medium speed until light and fluffy. Keep bowl covered with a damp cloth until ready to use.
For best results, keep icing bowl in refrigerator when not in use. Refrigerated in an airtight container, this icing can be stored 2 weeks. Rewhip before using.
To decorate:
Add a thin layer of blue icing gel over the butter cream frosting once set to add the look of water. Then, lightly sprinkle brown sugar on half of the cupcake to add the "beach." Decorate with beach-themed sugar topping or add a small paper umbrella to finish the look.
Other Recipes That You Might Like