Terrance Brennan's Feta and Slow Roasted Tomatoes on Olive Bread
From Artisanal and 'Chef's Table'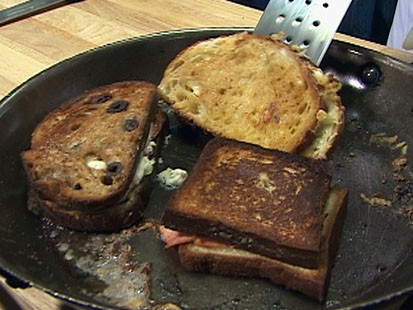 From the kitchen of Terrance Brennan
|
Ingredients
For the roasted tomatoes:
6 plum tomatoes, peeled, seeded and halved
1 clove of garlic, thinly sliced
1 sprig of thyme
1/2 cup extra virgin olive oil
1 teaspoon of salt
2 turns of peppermill
For the sandwich:
24 ounces feta cheese, room temperature
8 slices of nicoise olive country bread (1/2 inch thick)
12 pieces of roasted tomatoes (see recipe below)
4 tablespoons olive oil
Cooking Directions
For the roasted tomatoes, preheat oven to 250 degrees F.
Toss all ingredients in a bowl. Transfer tomatoes to a wire rack and place in the oven. Roast for about 2 hours (until dry but without coloring or browning). Remove from the oven and set aside.
For the sandwich, lay out 4 slices of bread. Evenly cover each slice of bread with feta, then top with 3 tomatoes. On top of the tomatoes place another layer of cheese. Place the remaining bread slices on top to form a sandwich. Brush the outside of each sandwich with ½ tablespoon of olive oil per side.
Heat a 12-inch ovenproof saute pan over medium heat, and add two of the sandwiches. Cook until golden brown on both sides and the cheese has melted, then remove from the pan and set aside (If the cheese hasn't completely melted, finish in an oven preheated to 350 degrees F.) Repeat process with the two remaining sandwiches.
Transfer the sandwiches to a cutting board and cut in half and serve.
Other Recipes That You Might Like