Terrance Brennan's Smoked Salmon Croque Monsieur
From Artisanal and 'Chef's Table'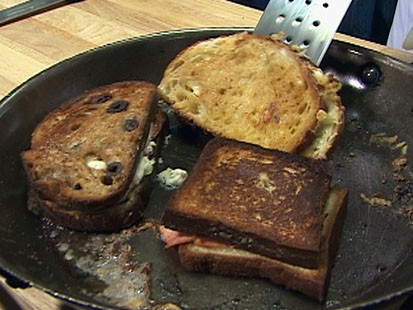 From the kitchen of Terrance Brennan
|
Ingredients
16 ounces Pierre Robert
8 slices of brioche bread (1/2 inch thick)
10 ounces smoked salmon (sliced thin)
4 tablespoons unsalted butter, room temperature
Cooking Directions
Lay out 4 slices of bread, and top each with one slice of smoked salmon, then add two slices of cheese side by side covering the salmon. Top with another slice of smoked salmon. Make sure to evenly divide the salmon and cheese. Place the remaining bread slices on top to form a sandwich. Spread the outside of each sandwich with 1/2 tablespoon butter per side.
Heat a large ovenproof saute pan over medium heat, add the sandwiches and cook until golden brown on both sides and the cheese has melted. (If the cheese hasn't completely melted, finish in an oven preheated to 350 degrees F.)
Transfer the sandwiches to a cutting board and cut in half. Plate and serve.
Other Recipes That You Might Like