Best Grilled Cheese Sandwich
Grilled Cheese By Two Good Friends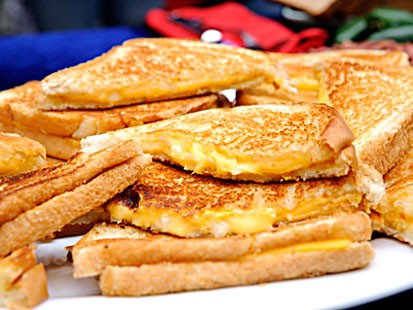 From the kitchen of Toni Kellers & Joy Poulter
Toni Kellers and Joy Poulter met at Brownies 65 years ago and when they became moms, they came up with this sandwich recipe. It is a simple, inexpensive sandwich. It is something they still enjoy today.
Do you think you make the best sandwich in the country? Click here to tell us how you do it.
Ingredients
bread, of your choice
mayonnaise
mustard
American cheese
onion
butter
Cooking Directions
Using bread of your choice (we used Wonder bread in those days), spread 1 slice with mayo and one with mustard.
Put 2 slices of American cheese on one, add thin-sliced onion, and top with the other slice.
Butter both outsides and toast in a skillet on both sides.
It is simple, cheap, and yummy.
Recipe Summary
Main Ingredients: cheese, mayo, joy poulter, toni kellers
Course: Brunch, Dinner, Lunch