Emeril's Southwestern Turkey Sliders
Perfect for Father's Day BBQ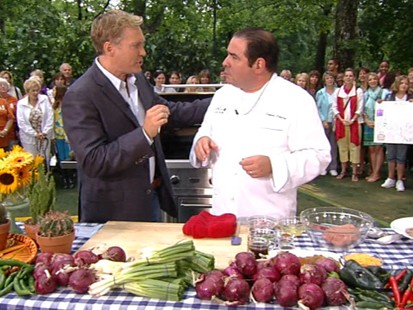 The chef prepares Southwestern turkey sliders, cucumber salad and pie.
From the kitchen of Emeril Lagasse
|
Emeril Lagasse is at the grill with a tasty menu for Father's Day! On the menu today are Southwestern Turkey Sliders. Easy, tasty and sure to please dad!
Ingredients
2 pounds ground turkey (preferably a blend of thigh and breast meat)
1/2 cup minced red onion
1/4 cup minced green onion (white and green parts)
1 or 2 serrano chiles, to taste, minced
2 egg whites, whisked
1 1/2 tablespoons Emeril's Southwest Essence spice blend
1 teaspoon ground cumin
1 tablespoon Worcestershire sauce
12 mini burger buns or small soft dinner rolls, warmed
1 cup grated cheddar cheese
12 small lettuce leaves
12 slices tomato
1 cup red onions, thinly sliced
1 avocado, peeled, pitted and thinly sliced
Mayonnaise (optional)
Mustard (optional)
Ketchup (optional)
Cooking Directions
Preheat a grill to medium-high.
In a large bowl, combine the ground turkey with the minced red onion, green onion, chile, egg whites, Southwest Essence, cumin, and Worcestershire. Mix gently but thoroughly. Divide the mixture into 12 equal portions, and using your hands, shape them into 12 small burgers, each about 3 1/2 inches wide.
Place the burgers on the grill and cook until the turkey is just done and an instant-read thermometer inserted into the center registers 165°F, about 3 minutes per side.
Serve the burgers on the mini buns, topped with the cheese, lettuce, tomato, sliced red onion, and avocado. Garnish with mayonnaise, mustard, and ketchup to your liking.
Yield: 12 sliders, 6 servings
*Recipe courtesy Emeril Lagasse, "Emeril at the Grill", HarperStudio Publisher, New York, 2009, courtesy Martha Stewart Living Omnimedia, Inc.
Other Recipes That You Might Like