Green Potato Salad
'The Most Decadent Diet'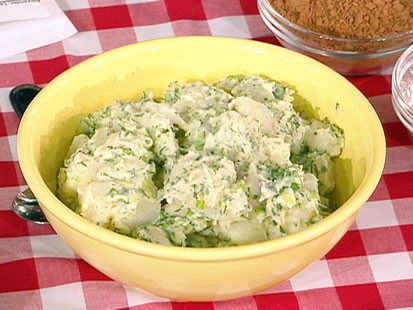 From the kitchen of Devin Alexander
|
I went on a handful of dates with a guy this year who was the CFO of an herb company. He told me that his company sold more basil and mint than any other herbs. Basil apparently used to win by an even greater margin, but with the strong emergence of the mojito lately, mint sales have seriously skyrocketed.
He brought me big boxes of herbs every week. Since they add so much flavor and are virtually calorie-free, I always use a lot, but I started making a point of creating dishes from them while I had access in bulk for free. This is one of my favorites.
When you're making this potato salad, I highly recommend that you mash the potatoes a bit as you stir them. It will give the salad a creamier texture, eliminating the need for a lot of mayonnaise or dressing. Larger chunks of potatoes will seem drier. Also note that potatoes are one of those foods that definitely require adding salt. Be sure to season this one well to taste.
Ingredients
2 1/4 pounds baking potatoes, peeled and cut into 1-inch pieces
1 teaspoon salt, plus more to taste, divided
3/4 cup fat-free plain yogurt
2 teaspoons Dijon mustard
1 tablespoon extra virgin olive oil, plus 1 teaspoon
2/3 cup whole green onions, finely chopped
3 tablespoons parsley, finely chopped
2 tablespoons fresh dill leaves, finely chopped
Pepper, to taste
Cooking Directions
Place the potatoes in a large soup pot. Add enough cold water to cover the top of the potatoes by 2 inches. Place the pot over high heat and add one teaspoon of the salt. Bring the water to a boil and cook the potatoes uncovered until they are just tender through, approximately 12-15 minutes. Drain the potatoes in a colander and allow them to cool to room temperature.
Meanwhile, in a small bowl, whisk together the yogurt and mustard. Slowly whisk in the olive oil. Add the onions, parsley, and dill, and stir until combined.
Transfer the potatoes to a large bowl and pour the dressing over them. Mix them well with a wooden spoon, breaking some of the potatoes, so that some of them are a bit mashed and the ingredients are well combined. Season them generously with salt and pepper. Refrigerate for at least one hour or up to 1 day.
Makes 5 cups; 5 2-Decadent Disk (about 1 cup) servings or 10 1-Decadent Disk (about 1/2 cup) portions.
Each 1-Decadent Disk (about 1/2 cup) portion has : 100 calories, 3 g protein, 18 g carbohydrates, 2 g fat, trace saturated fat, trace cholesterol, 2 g fiber, 160 mg sodium
Each 2-Decadent Disk (about 1 cup) serving has : 201 calories, 5 g protein, 37 g carbohydrates, 4 g fat, <1 g saturated fat, <1 mg cholesterol, 3 g fiber, 321 mg sodium
You save: 238 calories, 29 g fat, 5 g saturated fat
Traditional serving : 439 calories, 9 g protein, 27 g carbohydrates, 33 g fat, 6 g saturated fat, 287 mg cholesterol, 4 g fiber, 833 mg sodium
* Recipes taken from Devin Alexander's "The Most Decadent Diet Ever!" and www.devinalexander.com
Other Recipes That You Might Like