Cannoli With Orange Sauce and Pistachios
'Chef's Table' and Centro Vinotecha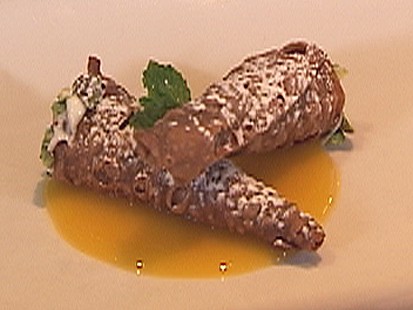 Centro Vinoteca chef Leah Cohen divulges her secret Sicilian dessert.
From the kitchen of Leah Cohen
Ingredients
For dough:
500 g all purpose flour
50 g butter, softened
3 g cinnamon
10 g cocoa powder
1 whole egg
180 g sweet maralsa
Filling:
500 g sheep's milk ricotta
200 g sugar
1 tbs vanilla extract
Orange sauce:
1/2 cup fresh orange juice
2 g xantham gum
Cooking Directions
For dough:
Put all ingredients in a kitchen aid; use the dough hook attachment. Once the dough forms a ball, take out of kitchen aid and knead in counter top for 3 minutes. Refrigerate for at least 2 hrs.
Once the dough is ready, roll out on a pasta machine to number 2. Form around cannolli molds and fry at 350 degrees until crispy around 2 minutes
Filling:
Mix all ingredients in kitchen add using whisk attachment. Whisk until mixture is smooth.
Orange sauce: Whisk the xantham gum into the orange juice. Once the juice thickens strain though a chinois.
To assemble: Pipe ricotta filling into the cannolli shell, dip into crushed pistachios and sprinkle with powdered sugar. Spoon orange sauce on the bottom of a plate and put cannoli on top.
Recipe Summary
Main Ingredients: sweet maralsa, flour, cinnamon, orange juice
Course: Dessert, Snack