Sandra Lee's Heirloom Potato Salad
Get the Recipe for Sandra Lee's Delicious Fourth of July Dish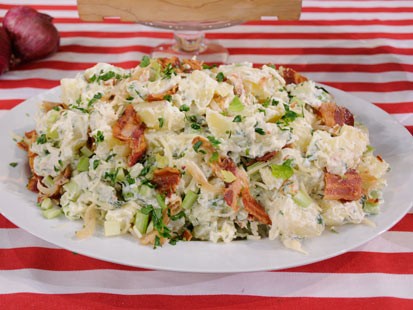 From the kitchen of Sandra Lee
|
Semi-homemade chef Sandra Lee cooks up delicious, inexpensive summer grilling recipes for Independence Day.
Reprinted with permission by Hoffman Media, LLC.
Ingredients
4 large Yukon gold potatoes ($3.20)
1/2 pound bacon ($2.99)
1/2 large yellow onion (.50)
4 stalks celery (.75)
1/2 cup mayonnaise ($1.08)
1/2 cup sour cream (.24)
2 tablespoons chopped fresh dill (.32)
2 tablespoons chopped fresh parsley (.13)
1/2 teaspoon salt
1/2 teaspoon ground black pepper
1 1/4 cups shredded Swiss cheese ($7.98)
Cooking Directions
Peel potatoes, and cut into 1 to 11/2-inch cubes.
In a large heavy-bottomed pot, add potatoes and enough water to cover. Bring to a boil over medium-high heat; cook until potatoes are just tender. Drain, and refrigerate for 1 hour.
In a large skillet, cook bacon over medium-high heat for about 10 minutes, or until browned and crispy. Transfer bacon to a paper towel–lined plate, reserving 1/4 cup drippings in skillet.
Thinly slice onion. Add onion to bacon drippings in skillet, and cook over medium-high heat for about 6 minutes, or until caramel-colored. Remove onion from pan, and allow to cool.
Chop celery.
In a large bowl, combine mayonnaise, sour cream, dill, parsley, salt, and pepper, whisking well to combine. Add potatoes, bacon, celery, and cheese. Toss gently to combine.
Other Recipes That You Might Like