Grady Spears' Corn Casserole
From "Cooking the Cowboy Way" by Grady Spears with June Naylor/Andrews McMeel Publishing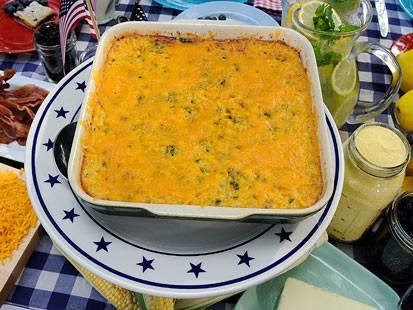 From the kitchen of Grady Spears
Taunia's mom came up with this side dish, and it's one of the most requested items Taunia makes at the ranch. You may want to double the recipe, because everyone always wants a second helping.
Ingredients
1 can creamed corn (15-ounce)
1 can whole kernel corn (15-ounce), undrained
2 eggs, beaten
2 tablespoons sugar
1/3 cup corn bread mix (from package)
1/4 cup unsalted butter, melted
2 jalapenos, stemmed, seeded, and minced
1 cup grated sharp cheddar cheese, divided
Cooking Directions
Preheat the oven to 350ºF.
Stir the corn, eggs, sugar, corn bread mix, melted butter, jalapenos, and1/2 cup of the cheese together in a large bowl.
Transfer the mixture to a buttered 8 by 8-inch baking pan.
Bake for 40 minutes; sprinkle the remaining 1/2 cup of cheese on top and bake for 20 minutes longer.
Allow to cool for 5 minutes before serving.
Recipe Summary
Main Ingredients: corn, cheese, eggs, butter
Course: Side Dish, Vegetable, Starch