Grady Spears' Buttermilk-Blueberry Lemon Squares
From Cooking the Cowboy Way by Grady Spears with June Naylor/Andrews McMeel Publishing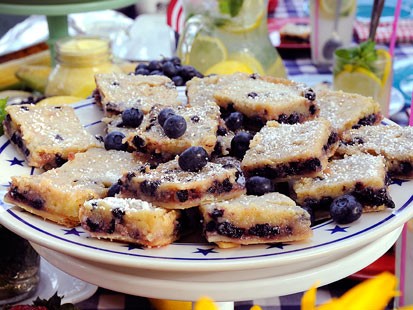 From the kitchen of Grady Spears
|
Jen is definitely the baker in our family, and this is one of her specialties. She and Marci made several pans of these for the party, and there weren't any left over.
Ingredients
Crusts for 2 (9-inch) pies
1 1/2 cups dried blueberries
2 cups sugar
2 tablespoons cornmeal
5 eggs, beaten
2/3 cup buttermilk
1/2 cup unsalted butter, melted
Juice of 2 lemons
2 teaspoons lemon zest
1 tablespoon vanilla extract
1 teaspoon ground nutmeg
Cooking Directions
Preheat the oven to 375ºF.
Sprinkle a long rimmed baking sheet (at least 10 by 13 inches) with flour.
Spread the pie crusts over the bottom and sides of the sheet, cutting to fit your pan as necessary.
Sprinkle the dried blueberries on the crust. In a medium bowl, combine the sugar and cornmeal. Add the eggs and buttermilk and mix well.
Stir in the butter, lemon juice and zest, vanilla, and nutmeg. Pour the buttermilk mixture over the berries.
Bake for about 30 minutes, or until set and just browning on top.
Allow to cool for 15 to 20 minutes before serving.
Other Recipes That You Might Like